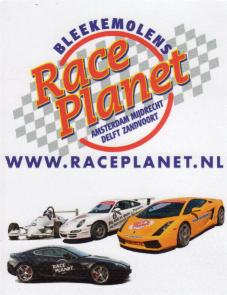 My wife totally surprised me by giving me this present for my 40th birthday and our wedding aniversary this year. She could not have given me a better present!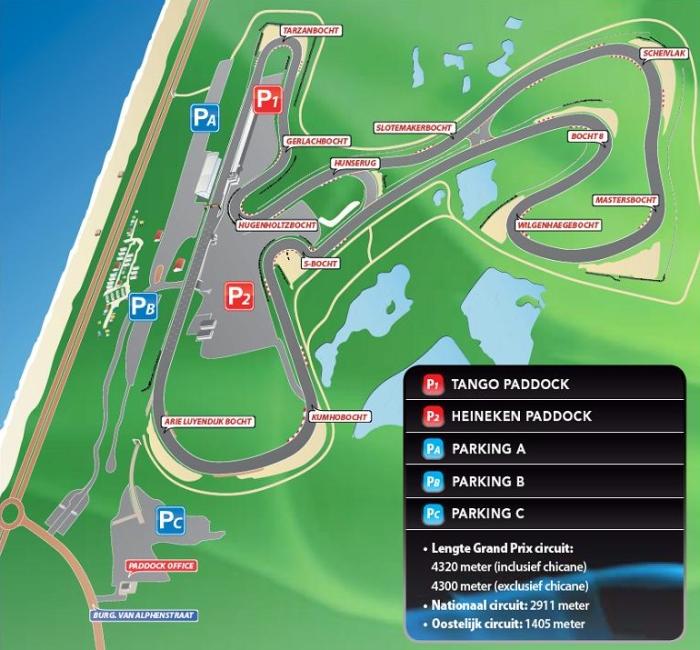 The day started early, we were at the Zandvoort circuit 8:30 to register and the fun began an hour later. The wheather was nice, a bit fresh but at least dry, not too bad for the last day of October! As I write this the day after it is raining heavily so I was very lucky. Zandvoort is not far from where I live but there were people there from all over the country. I think there were around 120~140 participants that were divided into smaller groups, I was in a group of 18. All groups rotated between the 10 parts of the event which lasted till 17:00.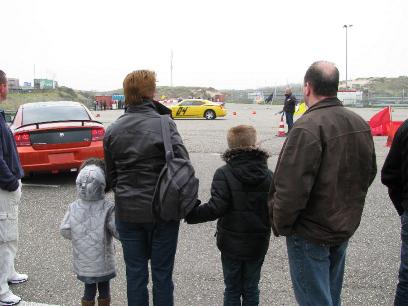 My mom and stepdad also came by with my kids so they could see daddy "race".
I will tell things in the order I did them and of course show it with pics and vids.
We started with the "dragrace", not as official as I am used to do it but still fun. The cars were 2 identical Dodge Chargers R/T with the 5.7Hemi. This is the first time I did a sprint with a car with traction control, less fun and skills required but for an event like this a lot safer I guess. the Hemi produces 350 hp and 390 lb-ft of torque if I am correct (not the 500hp they said it has...but since most people there have no clue and like to believe that). Still a quick car considering it's weight and when the traction control stopped while it started rolling the motor came to life and it really took of. Nice car, this would make an excellent daily driver.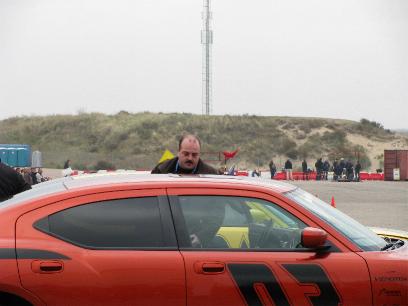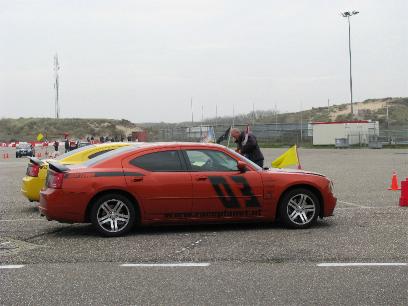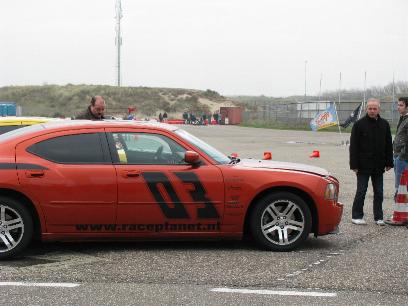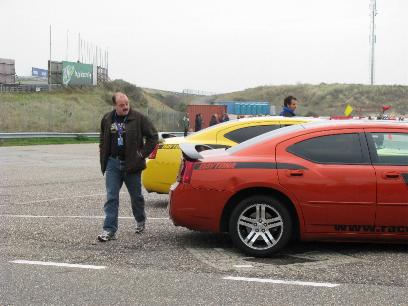 Next was karting, a small outdoor track was set up where we would do a few laps to get used to the kart and track, then a small qualifying race. It was very difficult to overtake beacuse of the narrow track, at the end I just pushed the guy in front of me out of the corner since there too litle space to do it properly. Now I also see the reason for lots of horsepower :-) . In a small kart the difference in accelleration between some lighter drivers and me (due to the "few" extra pounds I carry around) is evidend. Anyways, allways nice to do this and different this time since it was outdoors and a more bumpy track.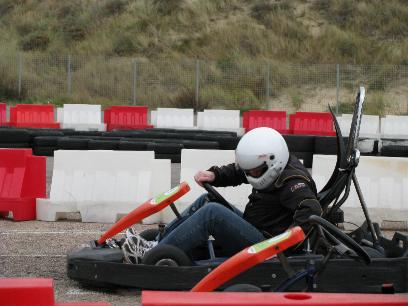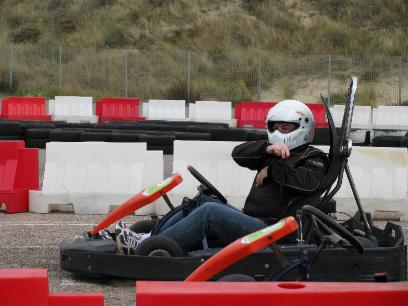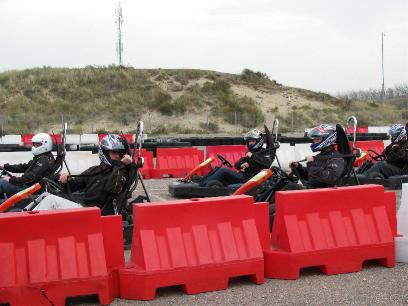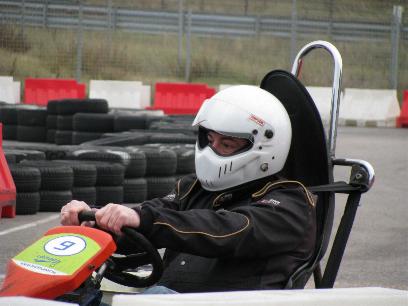 The Slalom followed now, the car used is a Suzuki Swift which is the same I drive as a daily now. There were 2 cars driving at the same time, both going opposite directions and you ended up on the start position of the other car. One guy got it wrong at the end and steered to the place he started from and headed straight on to the other car, they both hit the brakes just in time so nothing happened but we all had a good laugh about it!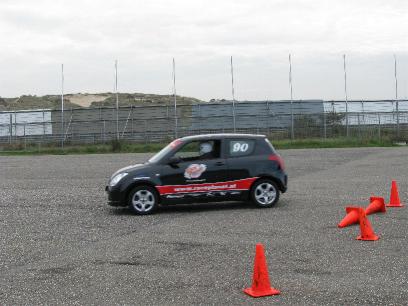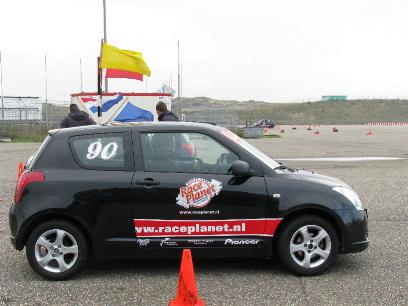 Then the Formula cars were up, an open 1 seater with open wheels, rear wheel drive, 4 speed manual and mid mounted engine. After the instructions which were given before each part we had to get into the small cars. They are really tight to get in and the pedals are very close to each other. It is more like lying down then sitting in this type of car but this way you are very close to the track and made it a great experience. These cars are very rough and back to basic, had loads of grip and reacted very direct. I was just behind the pace car and had no problem keeping up, actually felt like I could overtake him every time I wanted during the 2 laps. But this was not a race, just a way to get to feel all kinds of cars and how they handle and react which is great fun!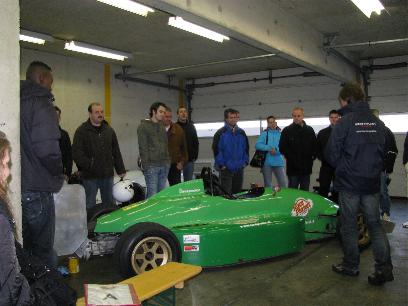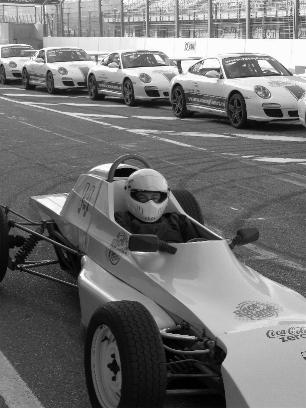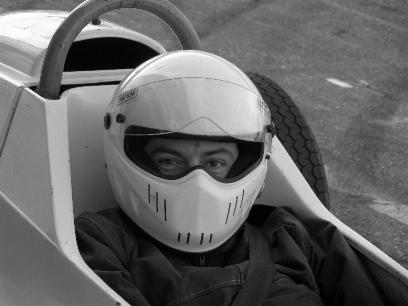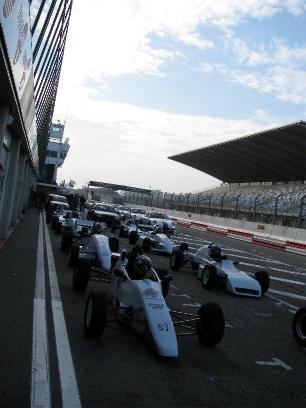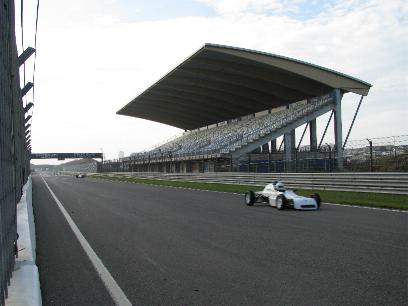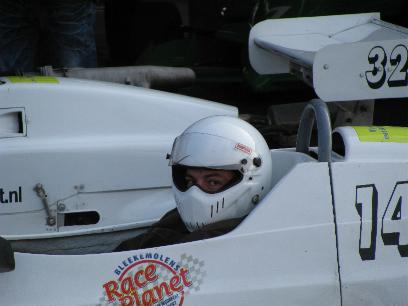 A lunch followed and then we got to sit in a Ford Mustang next to an experienced driver who showed you his drifting skills, very impressive! The cars were prepared specially for drifting, according the drivers they installed a water tank in the rear bumper and sprayed water in front of the rear tires. There were 2 reasons for this, first the power (300hp) is not really enough for drifting and second for saving tires. Now they can do about 60 laps on a set of tires in stead of 3 laps if they would not use the water. We headed for a turn with a speed so high I knew this car would normally not be able to make the turn without ending up in the gravel. Then the driver yanked the steering wheel, played with the throttle and got it through the turn sideways. COOOOOOOOOOOL!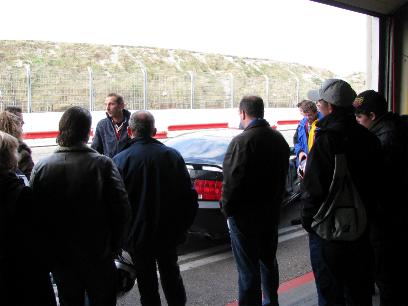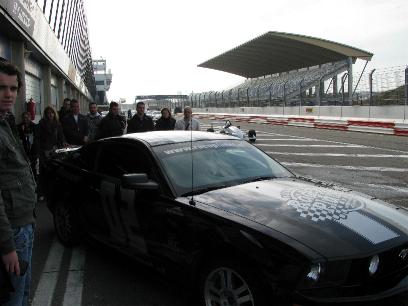 The Ice driving part meant we got into a front wheel driven Suzuki Swift again but this time the rear wheels were mounted on a rack which had 4 dolly wheels. This required you to be very careful because every sudden move or braking would mean the rear would overtake you in a spin. We had some good laughs there, specially when someone managed to drive the car off the rack, leaving the rear bumper mounted under a very strange angle.
Now we headed up into the dunes where we got to drive quads. These were 125cc automatics which we had to get round a small track. Good fun and an assault on the leg muscles because you use them to suspend the weight of your body. If you stay on the seat there is no way to get it round the track properly, you need to shift your weight constantly to turn the quad.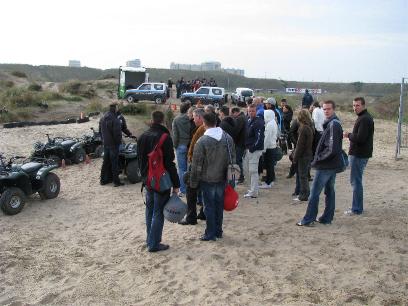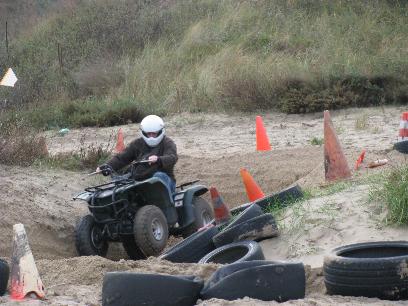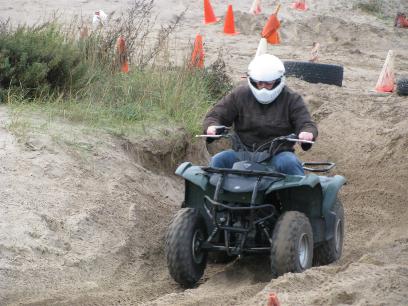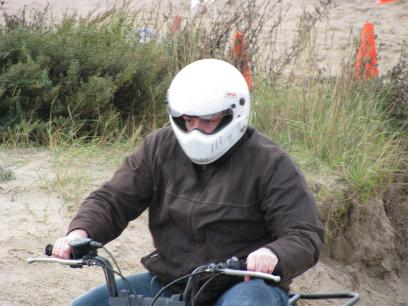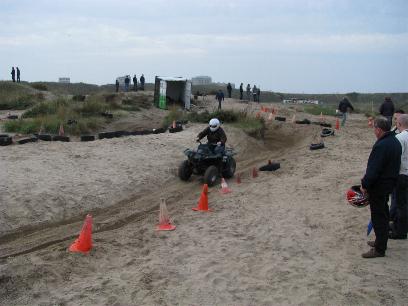 For the next part of the event we stayed in the dunes and got into a Suzuki Jimny to go round a track with a 35degree descent, some climbing and nice turns. This was a trail course so no speeding here just taking it easy and following the terrain. I found it scary to go over a clip without nowing or being able to see what was behind. I guess normally you would first go out and see what is coming but since this was a prepared track for novices we just went over it. First round I drove and the second I sat as passenger.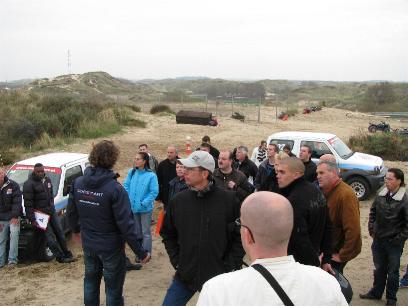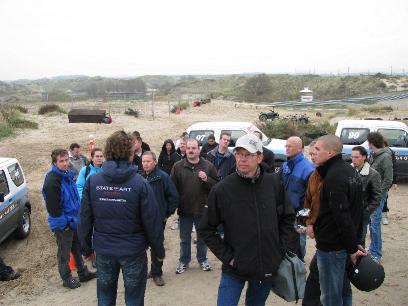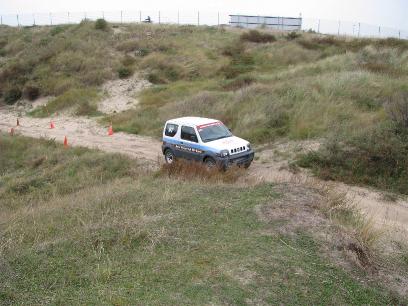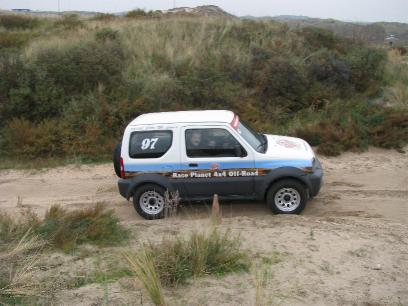 Back to the track for the final 2 parts we started with the BMW 130i Cup car and did 2.5 laps (2 times the 4.3km long track and 1 time the short track). This car drove like a "normal" car, very easy to drive and not harsh at all but quick nonetheless.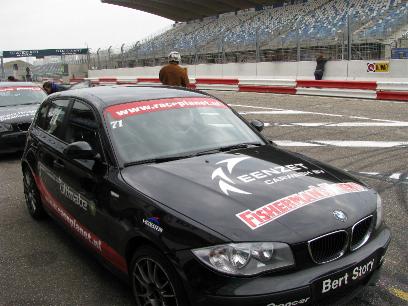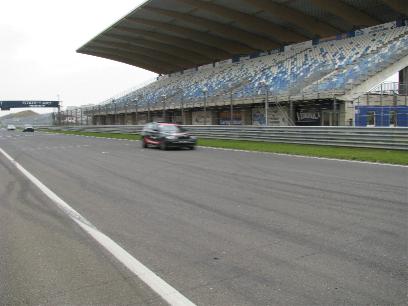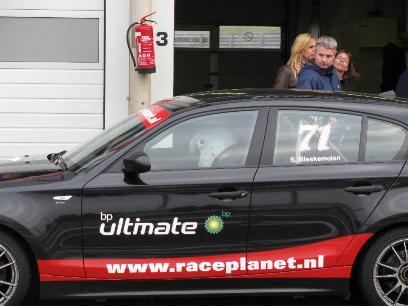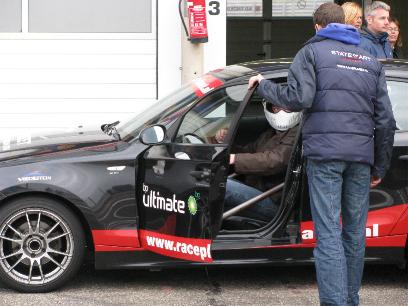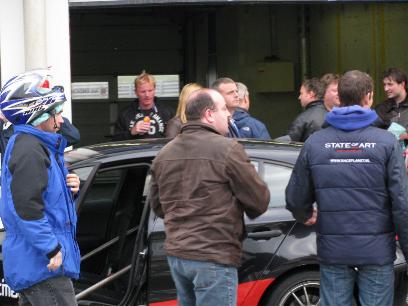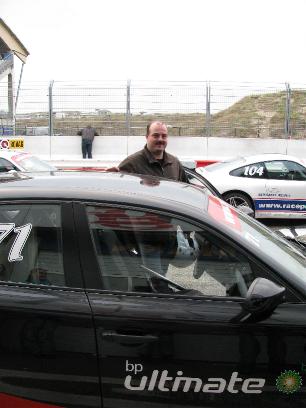 Last but defenately not least was the Porsche 911 (997 I believe) GT3 Carrera. The car had a full automatic gearbox end we were advised to run it like that since these would be able to shift better then we would be able to do ourselves. I felt the front of the car was a bit light, probably because most cars I drive have most weight in the front but it handled nice, good brakes too! A few times I was able to rev it over 7000rpm and this thing really goes! A very nice way to end the day I must say.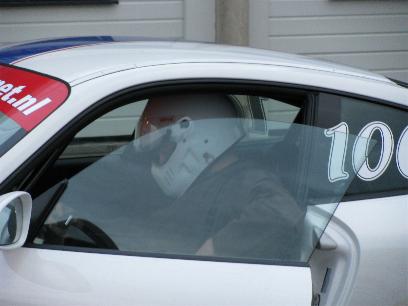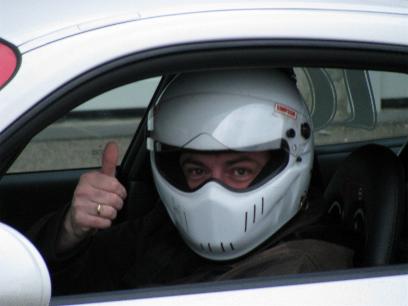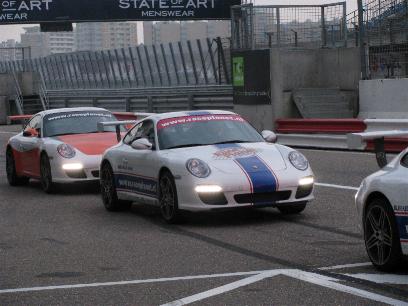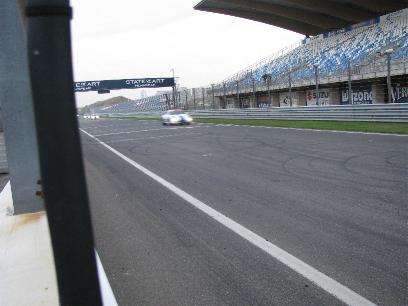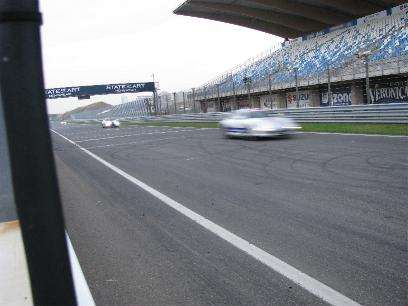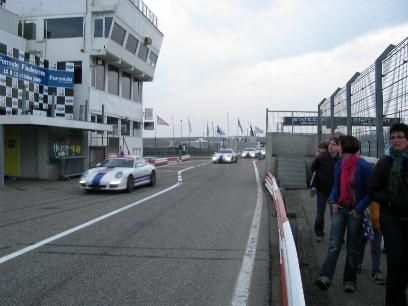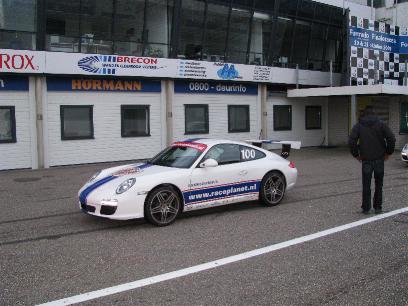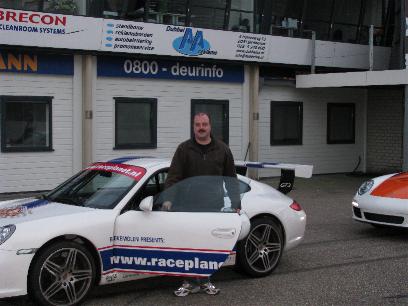 Looking back this was a great day with a lot of nice different activities to give you a taste of all types of motorsports. Again a big thanks to my wife who gave me this present!
You can reach me by e-mail at: camaro-rs@planet.nl