A lot has happened since my last update. I found a near new engine and good trans for sale in the USA through the Pro-Touring.com forum. It was a near new 350 engine with alu heads that made approximately 400HP and a good TH350 transmission. We made a deal and the seller removed it from his car. While on a business trip the engine and tranny were stolen from his warehouse. Allthough I didn't lose any money I was still very dissapointed since I had my mind set on this engine.

Not too much later I saw a 400 chevy small for sale on a local forum. The guy selling it still had it in his '68 Chevy Camaro and became Dutch champion with it twice in the 1/4 mile street machine class.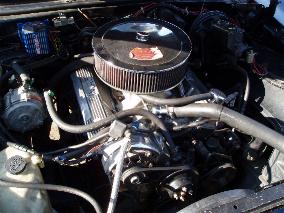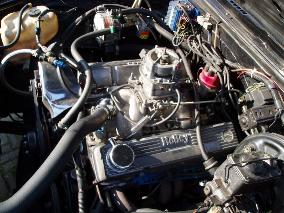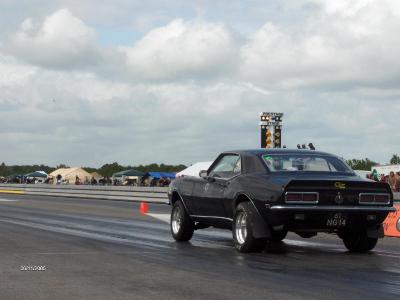 He ran a TH400 tranny and a 3.08 rearend, headers and a Flowmaster exhaust system identical to the one I have. Normally the motor used a special LPG (propane) carb which for races was switched for a Holley 650DP. This set-up gave him a 13.00 ET. Measured on a rolling road dyno it delivered 340HP at the rear wheels while running on LPG. It will probably put out a bit more on gasoline, I guess somewhere between 5 and 10%. The ports on the heads have been "flowed" and the compression is 1:10.5.
I went over to check it out and the motor sold itself during the test drive. The motor started right away and ran real nice and quiet. After a"warm up lap" we went to an isolated road and did a "quarter mile" test. From standstill it first broke away the tires and when the tires gripped the Camaro took off like a rocket! This is when I knew I had to have this motor in my car, it brought a smile to my face that lasted a whole day. Only once before I experienced this in my friend Cliff's 1st gen Firebird with a new built 400. The seller is now building a new 400 with everything forged and alu heads, that should be a real monster!
I used my daily beater to collect it, see the pics of the 472cui (7.7L) W12 VW Polo.... Actually that is 1.1 liter under the hood and 6.6 in the back ;-) The 400 now rests in my shed where I will clean, repaint it and mount all accesories.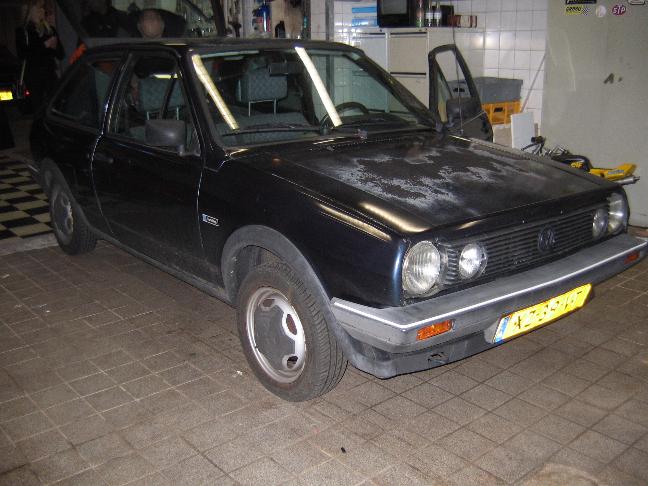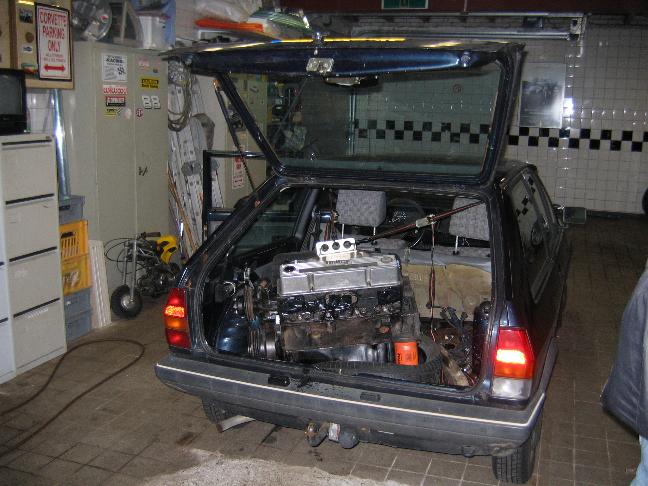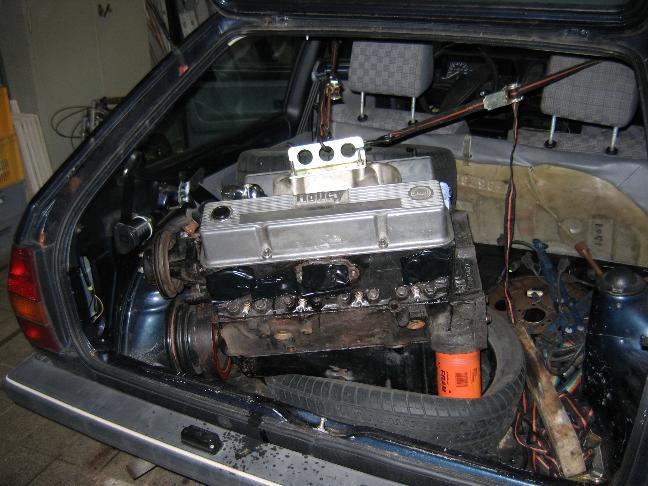 The turbo will not go on (yet?), I will first have to learn to drive with this much power.
Subframe connectors were also on my wanted list but I pushed it forward each time. Not that they are expensive, but shipping (and taxes) are. Again I had my share of luck when a NIB (new in box) set came up for sale locally. These are the Competition Engineering Bolt-On Frame Connectors (CEE-3113) In the US this will not be a rare occasion, but here in The Netherlands the chance finding the exact part you need for sale second hand is slim. I might have them welded in later anyways, but they will make the chassis much stiffer and take out a lot of flex even when just bolted in.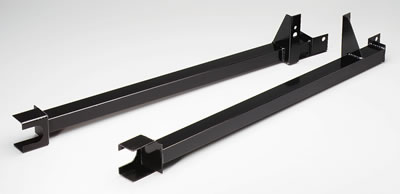 I didn't really plan to go EFI but when I saw an add for a Holley Pro-Jection 4Di 700cfm kit locally I gave the seller a call. The price was real good so wasn't going to let this pass. This is a so called TBI system which stands for Throttle Body Injection. Another extra expense (and amount of work) I didn't account for. Oh well.......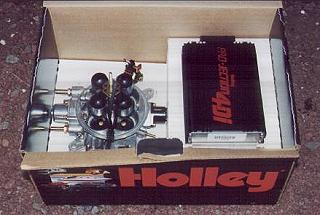 I sold the old motor so I had to do a lot of work so I could pull it out. The good thing is I will have more space for working on the firewall. Some welding has to be done on the firewall; filling some holes and smoothing the passenger side.
The other thing I am still working on is the interior. At the moment I am installing the insulation/noise dampening to get a comfortable ride. The airco unit needs to be mounted under the dash and the routing for the hoses must be determined. After that the new wiring can go in.
I removed the original airco radiator since I have a new one with my Vintage Air kit. 2 bolts inside the fenders decided not to co-operate.... took me at least 2 hours to remove the lower valence. I had to drill one bolthead off and used the angle grinder for the second. It's little things like this that make working on a car so much fun.......
Another job that has to be done is the subframe... it needs to be modified and painted (or powdercoated, not sure what to do yet). The modification will be notching it for clearence for the turbo crossover pipe. I am thinking to remove the frame, rebuild it after coating with the suspension, brakes, radiator support, radiators, motor and trans so I can roll it back under the body as one completed package.
The rear axle is another job... I have to install the Powertrax unit, paint it, clean/paint the brake calipers and make it ready for mounting to the new leaf springs. Before I can mount the leafs however I will have to clean the underside of the body and coat it.
As you can see there is still a lot of work to be done.....