I had been driving the Camaro and enjoying it....and it has been years since I made an update to my page for the Camaro so it is about time! A lot of changes in 2018 but I will start from where the previous page ended, spring 2014: Bulb flowers came up early this year due to the lack of winter :-) these are few of the last fields where they have not been picked yet. (I just drove by on my way to the paint shop)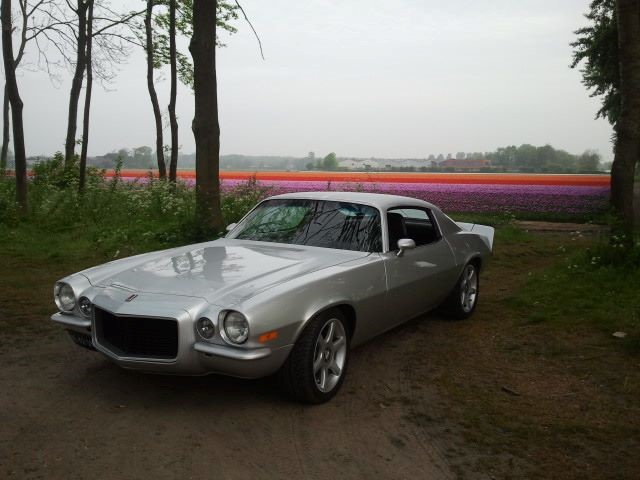 Not much happened in that year, I did get an AGR quick ratio steering box and took it home from Vegas in my carry-on luggage! End of November I installed it: Borrowed a big socket to loosen the nut for the Pitman arm on the steering box so had to do it the same day. 3degrees Celsius when I finished at noon (37,4F), bit cold for working outside on the floor :-( . I got the job done though, 2,5 hours the old one out and the new one in. Just need to get some power steering fluid and bleed the system. Mid December, pale winter sun, cold but not freezing so no salt on the road.... I found myself some time to test my newly installed AGR quick ratio steering box and I can say it is an improvement! No more play and a lot less turning the wheel to get around a corner! Steering is more direct and takes just a bit more effort. This is one of these upgrades you wish you had done years earlier.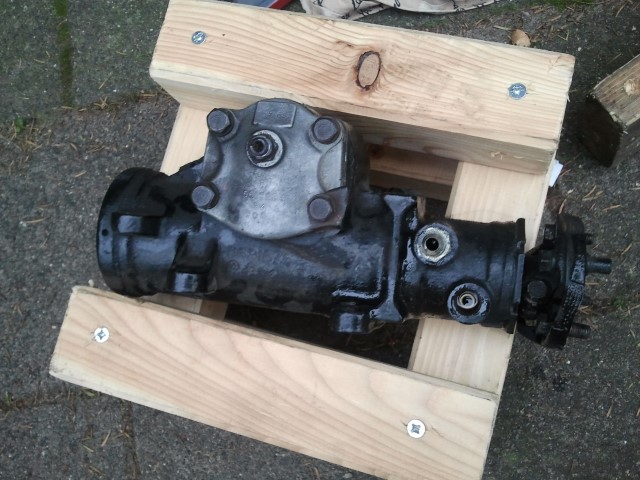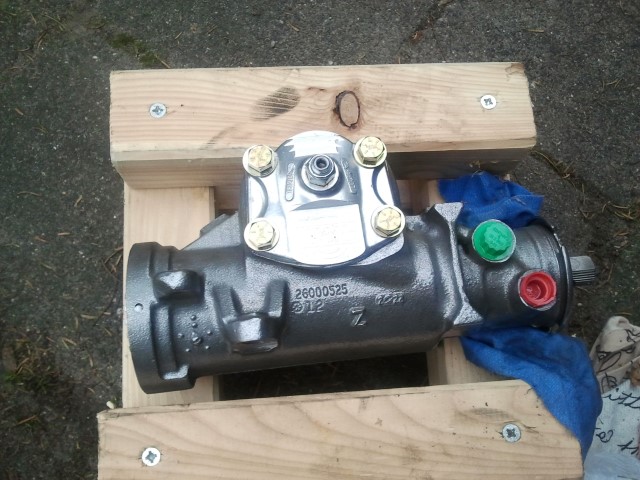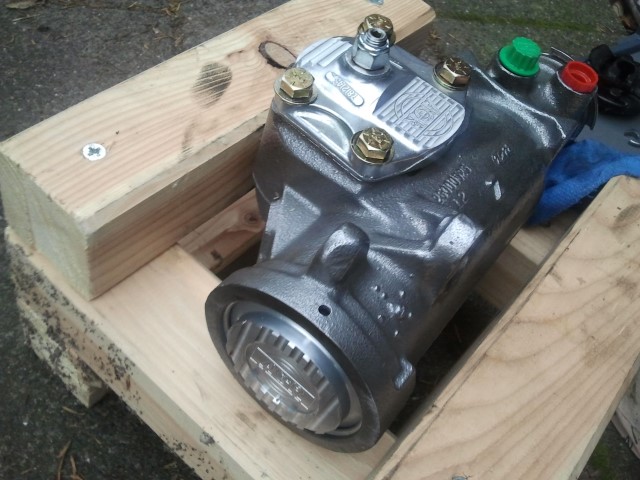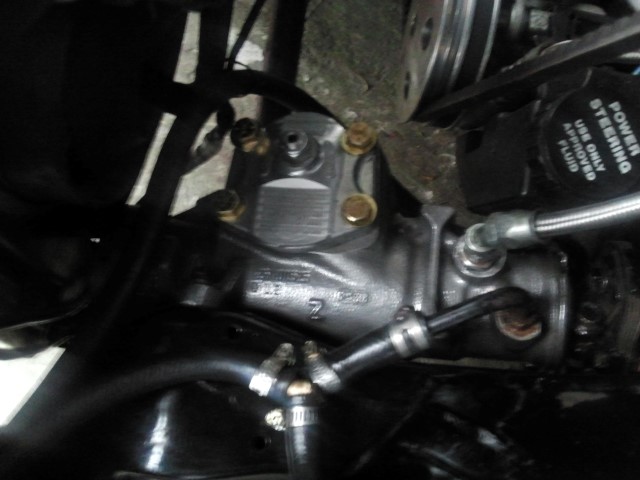 Cars & Coffee, Zandvoort track June 2015.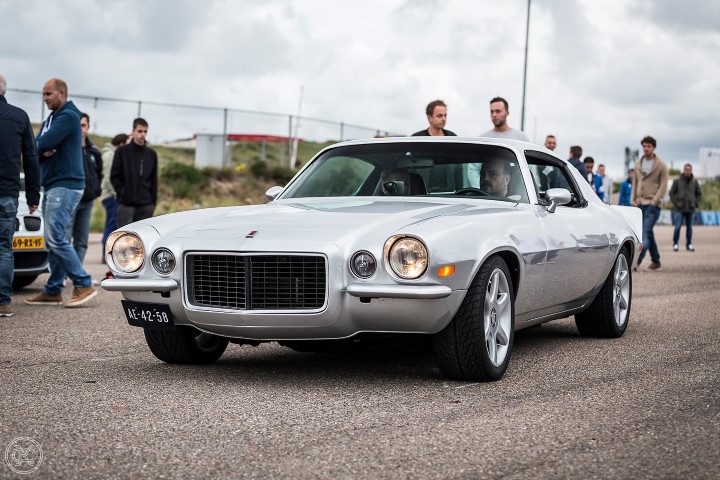 September 2015: sad that someone decided to cause me trouble and makes me spend time and money for his/her fuckup just because he/she was afraid to lose the no claim discount on the car insurance. .... actually I am pissed off !! I know it's "just" a car and it can be fixed.... causing damage and running off without taking responsibility is just lame.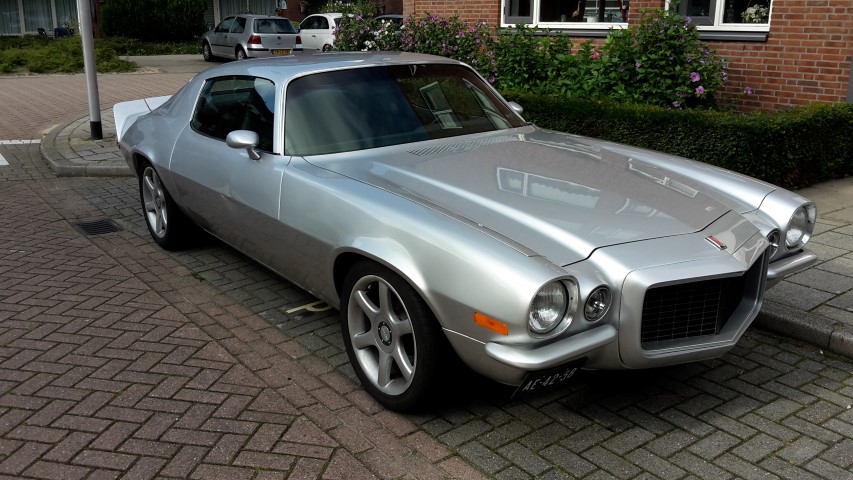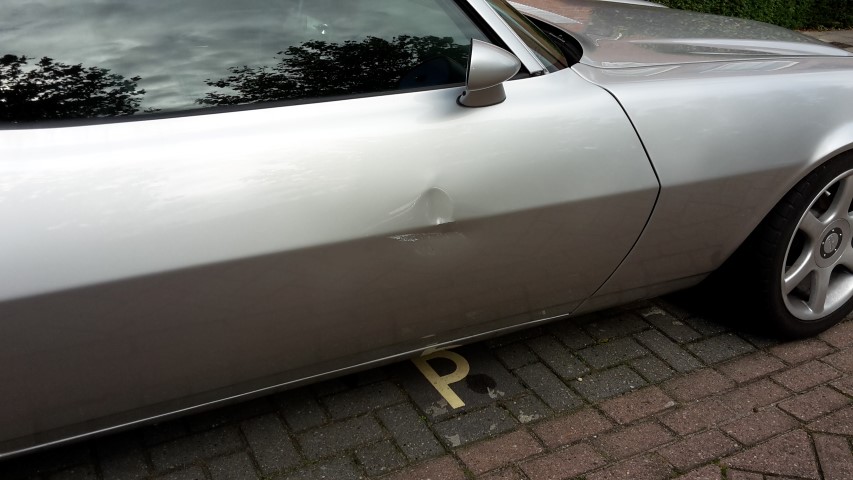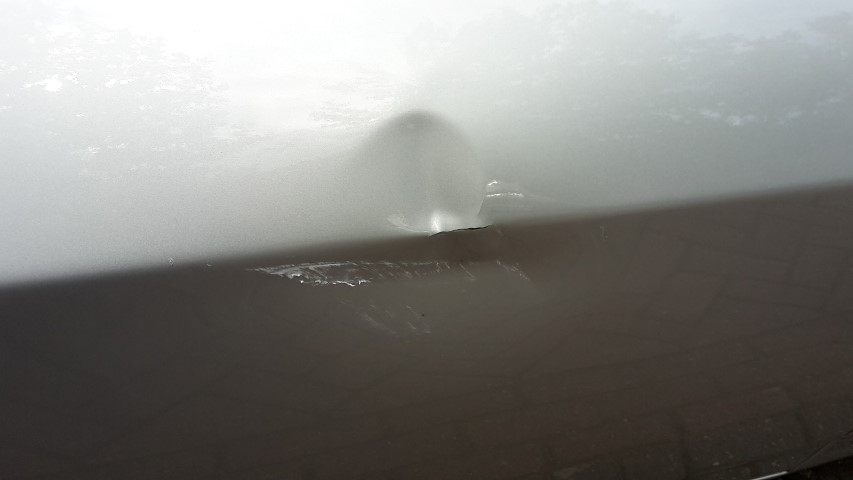 December 2015, my son asked me if I could drive hime to the Christmas ball at his school, still had the dent in the door so I got some spray cans and covered it up.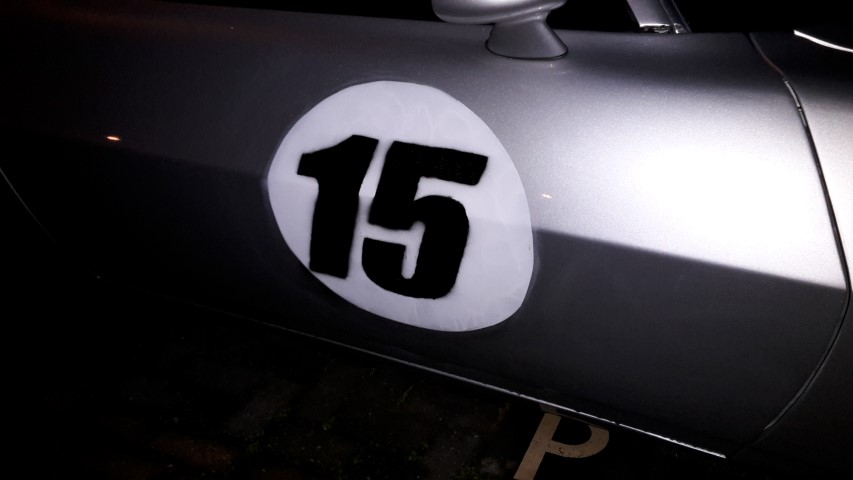 2016, I was tired of polishing the billet aluminum pulleys and wanted the ease of 1 serpentine belt with an automatic tensioner. I sourced an OEM set out of a mid 90's Chevy and got it pretty cheap. It was used and looked like it so I spent some time cleaning and painting it all. It came out nice and bolted right on...works perfect!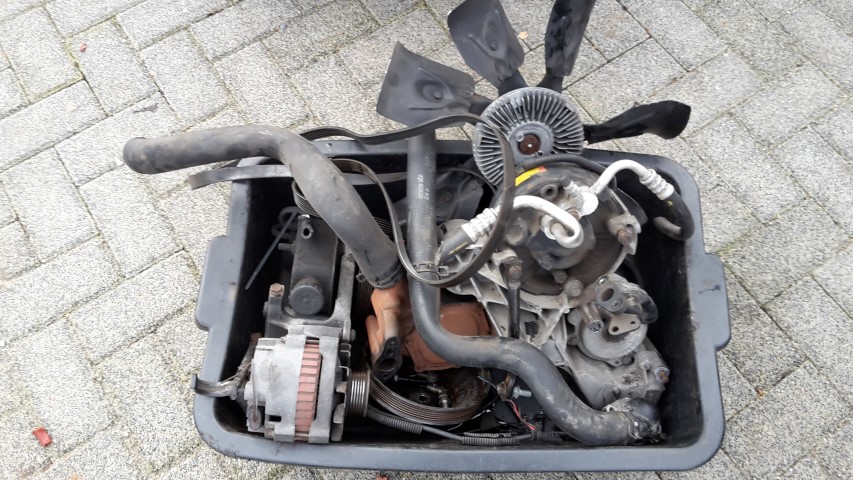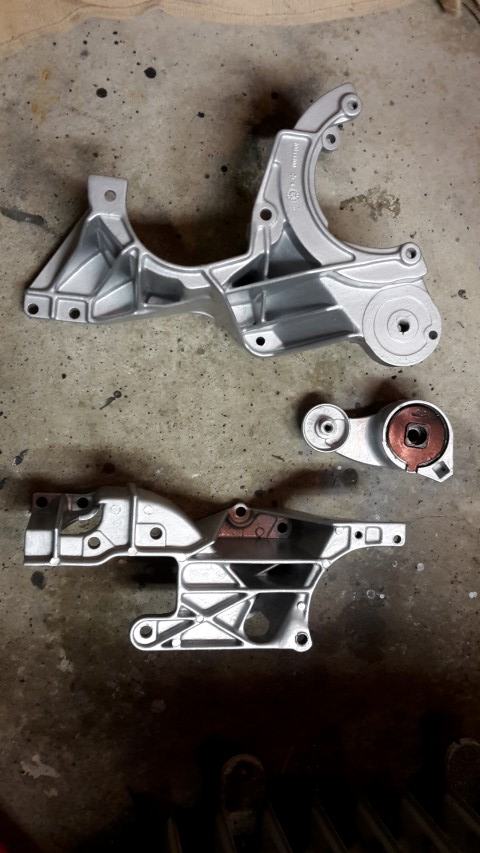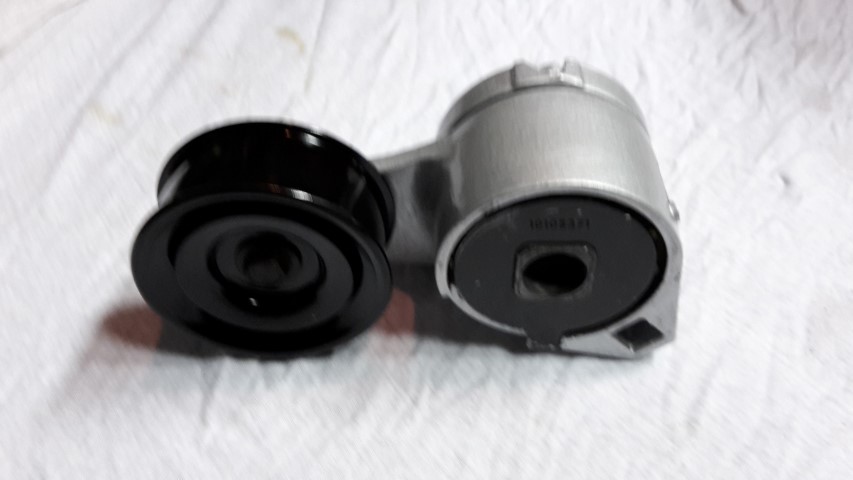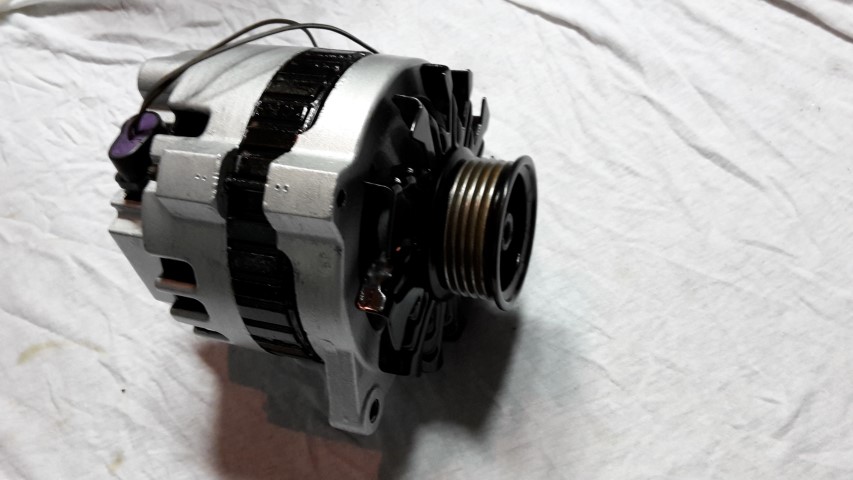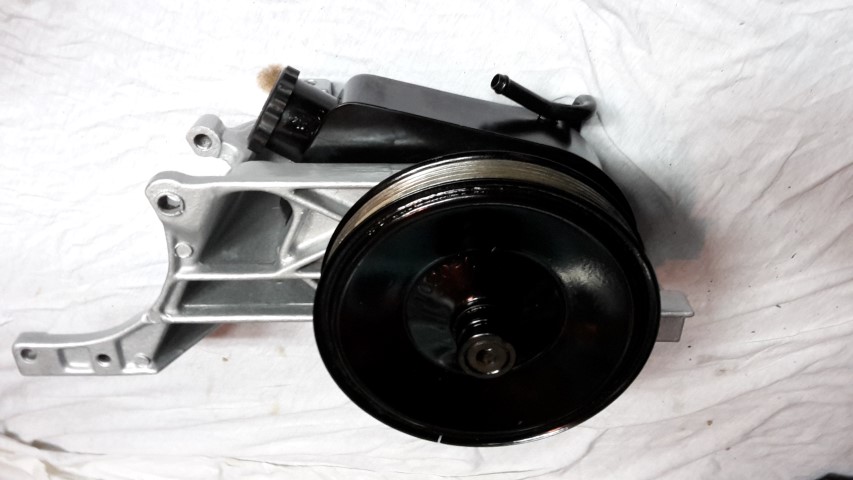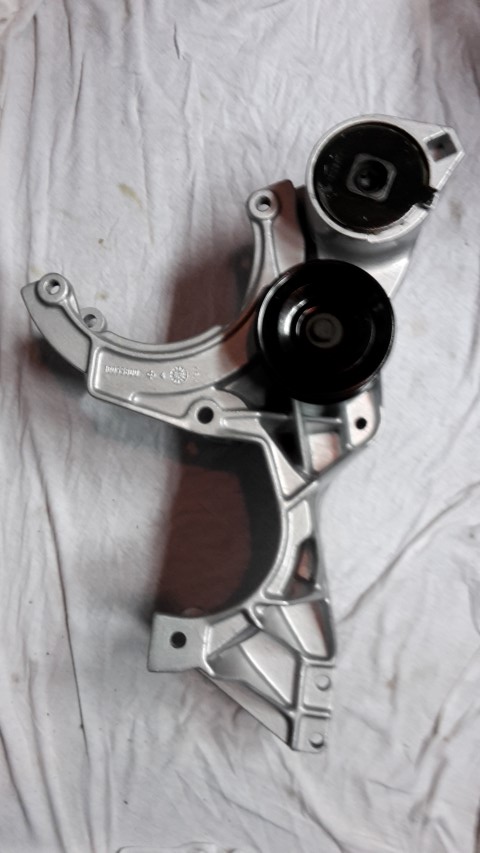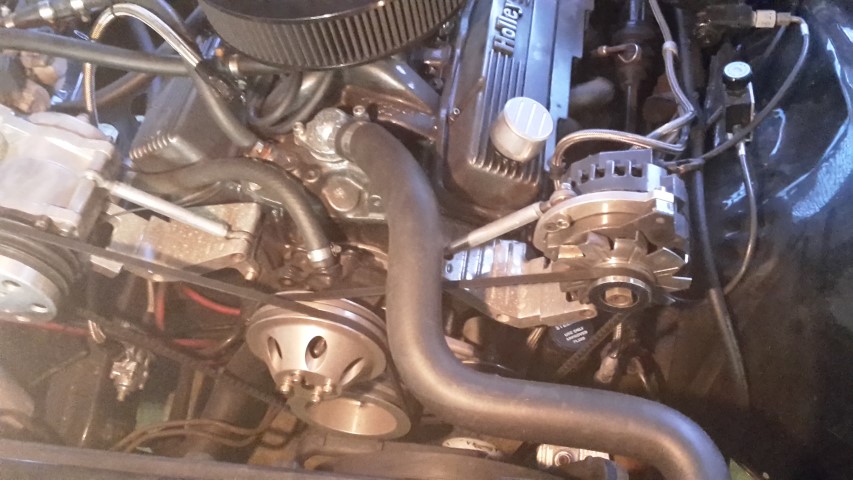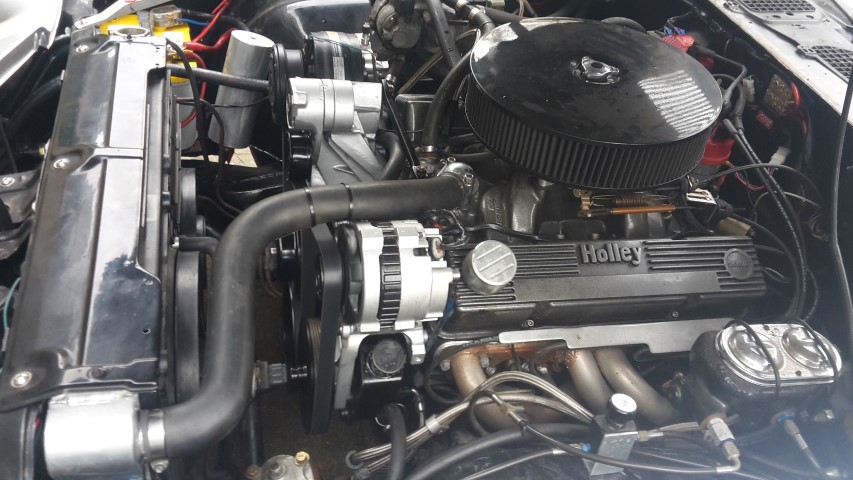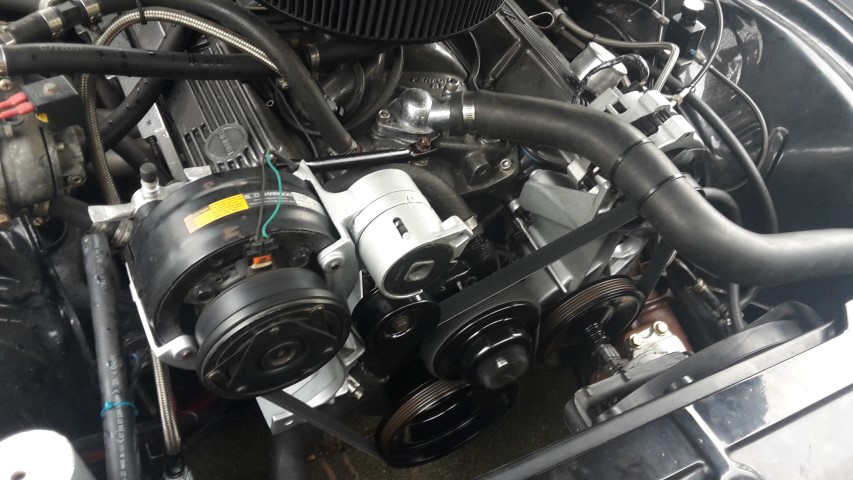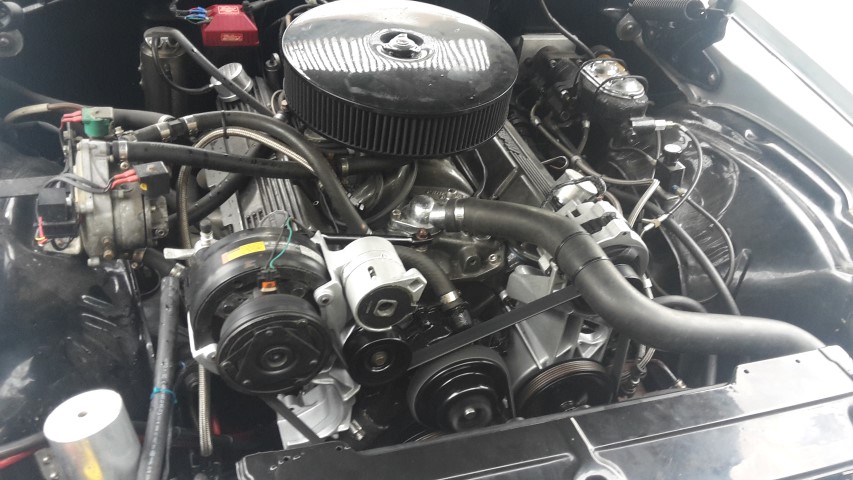 I did have to polish the old stuff 1 more time so I could sell it.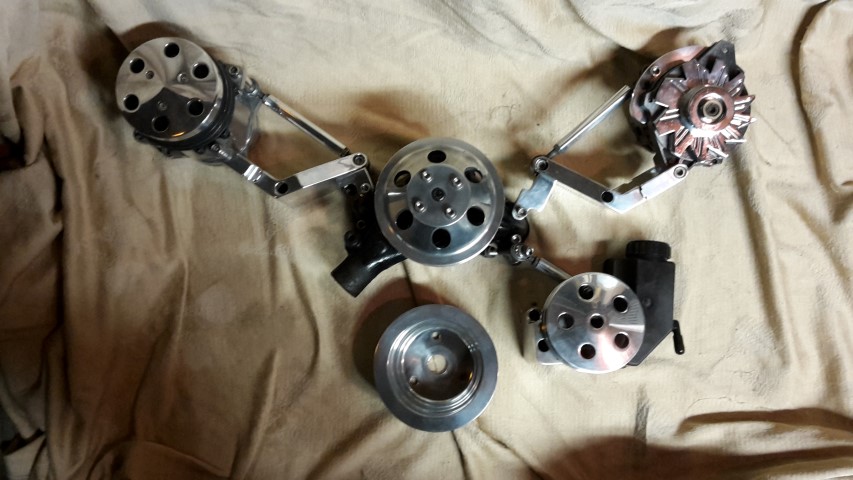 October 2016....I got pulled over by the police for running a license plate that was too small without the proper indication on my papers... I've had this ever since I have the Camaro, never any problem but this cop was searching to reach his yearly target I guess. So I got a fine and had to go to our "RDW" (DMV) to have the papers changed. (pic shows my plate mounted and the new legal plate I can run after the car was inspected and registration updated)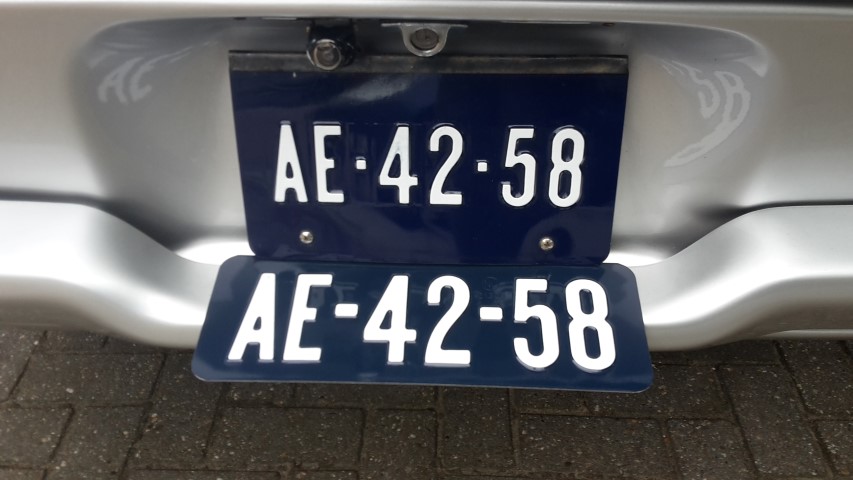 The Camaro needs to be tested every 2 years (technical inspection). The rules sometimes change over the the years and my shaved doors became illegal somewhere down the road. I got around the "the car should be able to be opened from the outside in a normal manner" by hanging a rope attached to the inner door crank out the window. Pull the rope, open the door...sketchy but it worked. I was getting tired of this and now I had to go to the RDW (DMV) to have the car inspected for the smaller license plate and I knew the missing door handles could become a problem. I already had plans for mounting handles and had them on the parts shelf but now I had to do it. After a lot of measuring I drilled holes in the doors and mounted the new handles, with some modifications they worked nicely. The 2nd gen door handles never appealed to me, I love the old syle much more and I think it looks good on my car. Since I don't have a lock on the door I needed to add a remote locking system.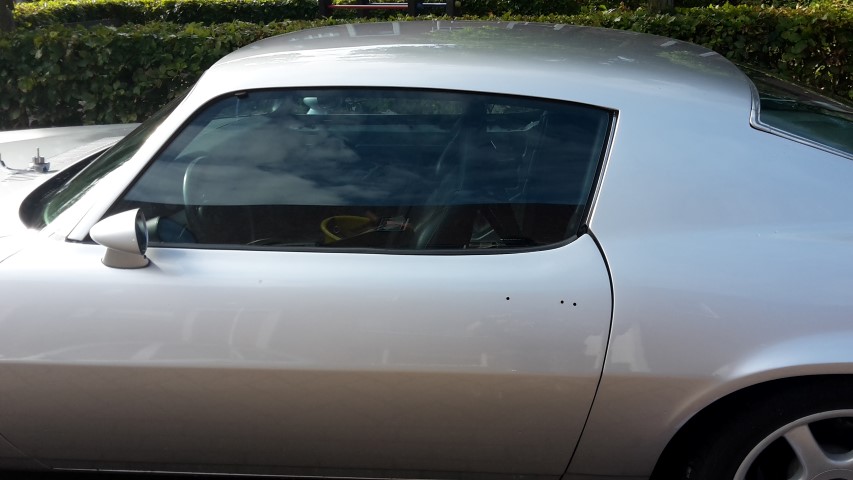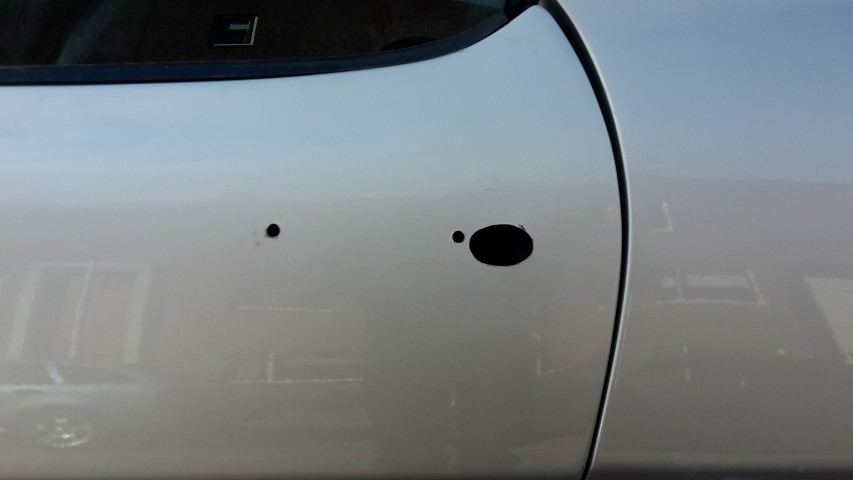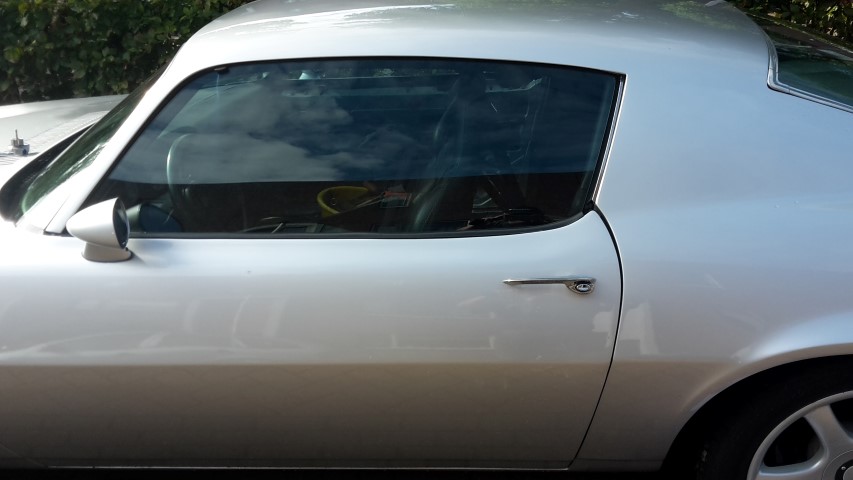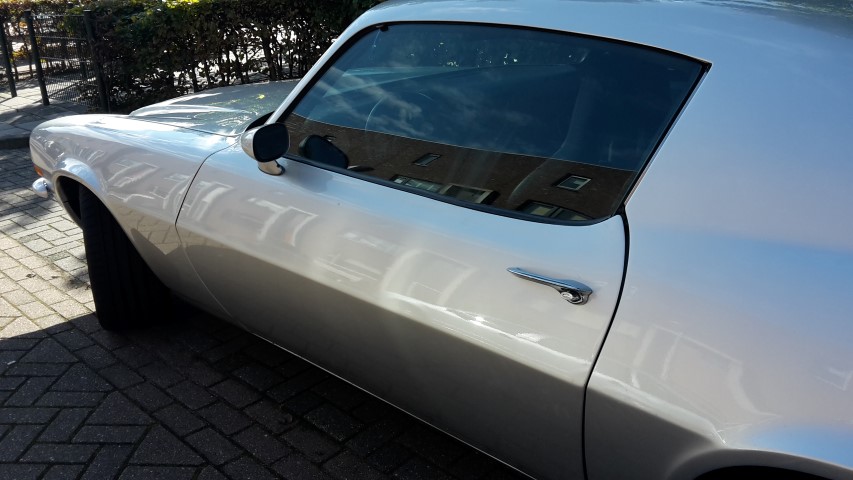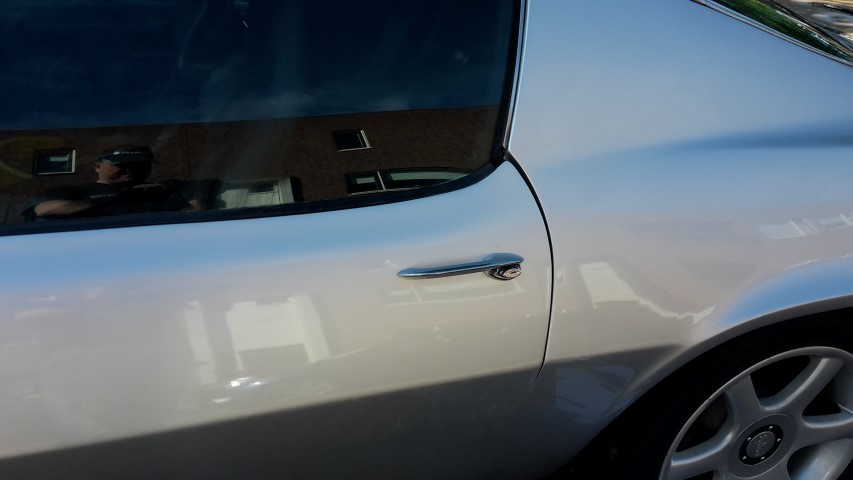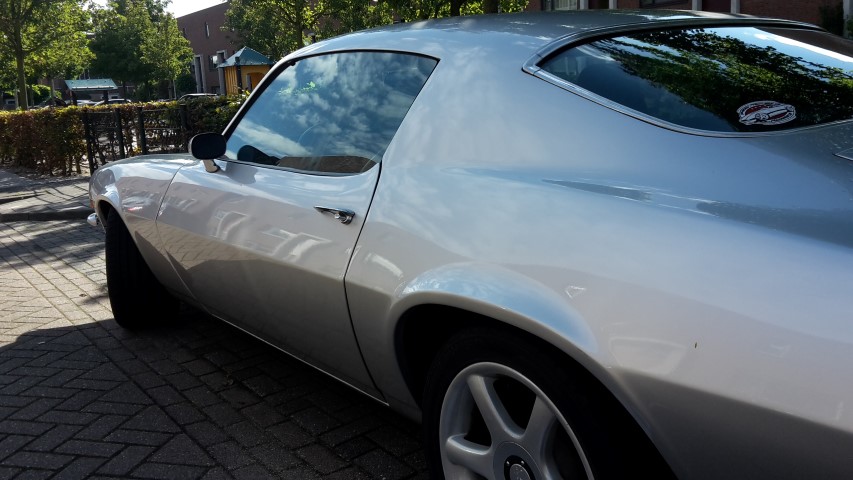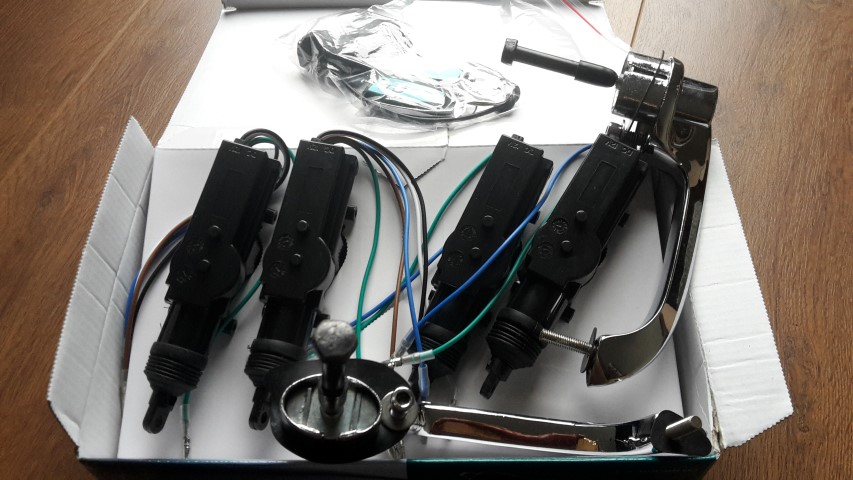 Sema 2016, I was very proud when Flex-a-Lite used my Camaro on their Banner on their SEMA booth. (fast forward, later all over the USA at shows and now even in their 2019 catalog!)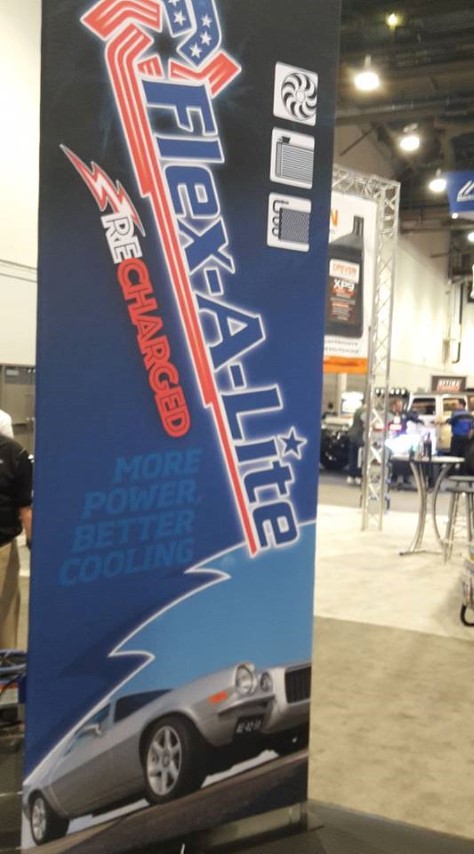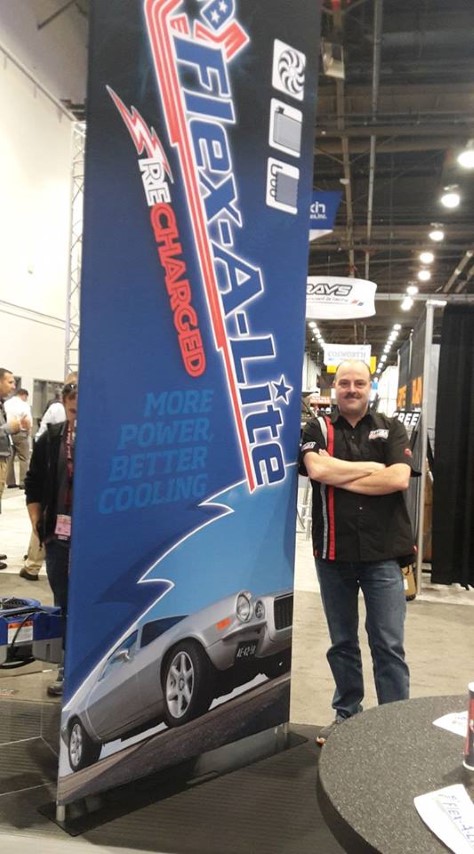 GoodGuys PPG nationals 2017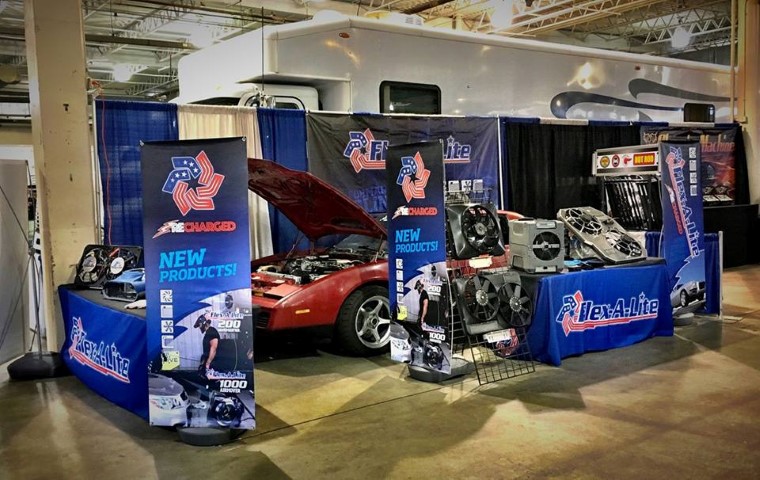 GoodGuys Pleasanton 2017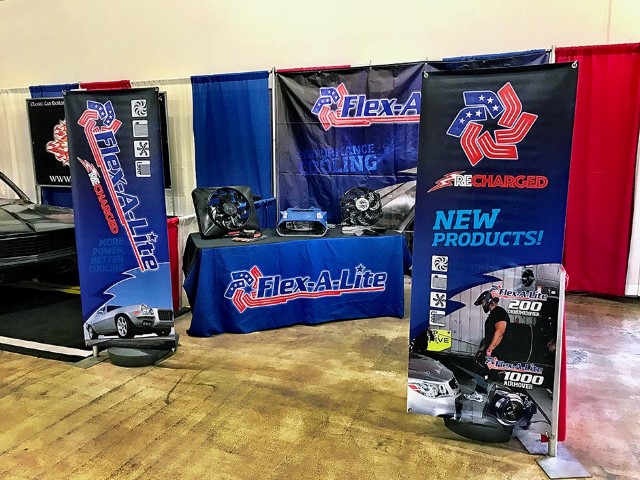 2017 Springbreak Shootout Bradenton motorsports park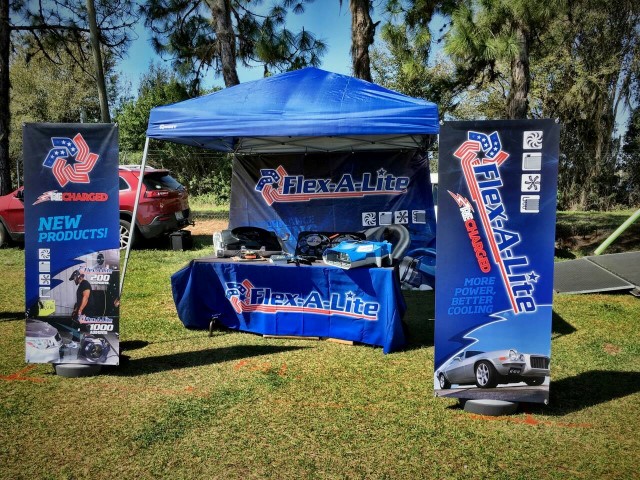 Super Summit Show Summit Raceway Ohio 2018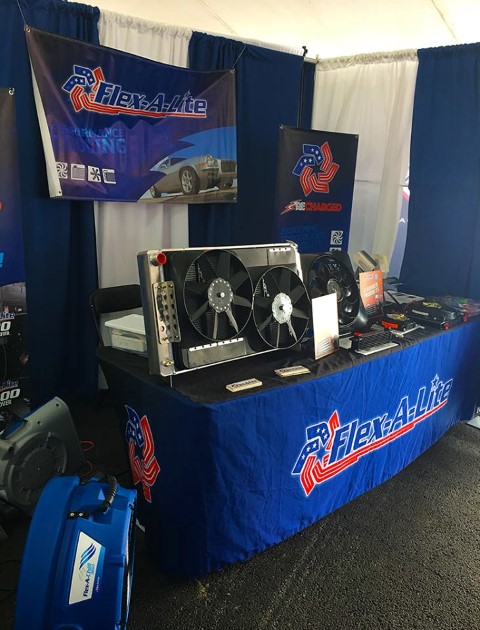 Atlanta Motorama 2018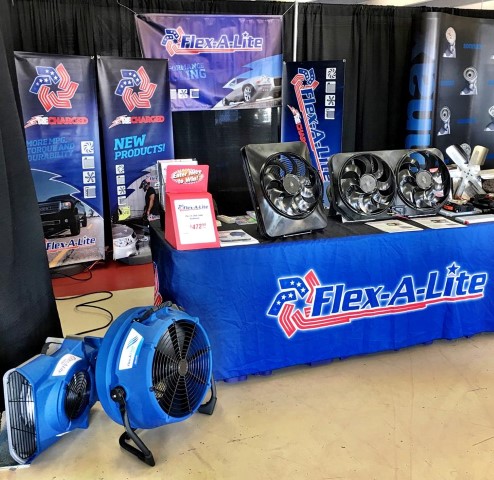 2019 catalog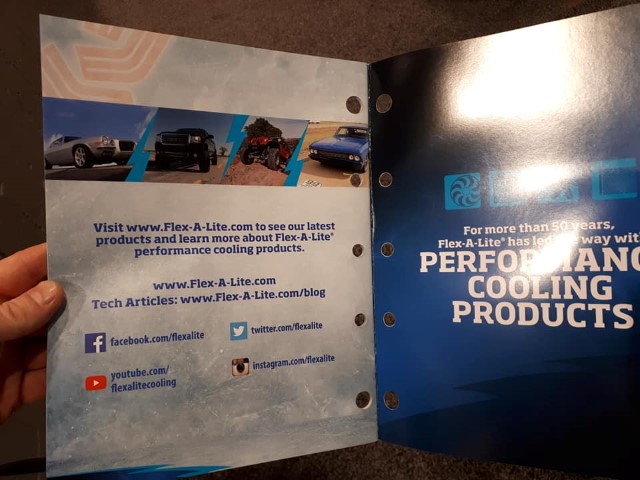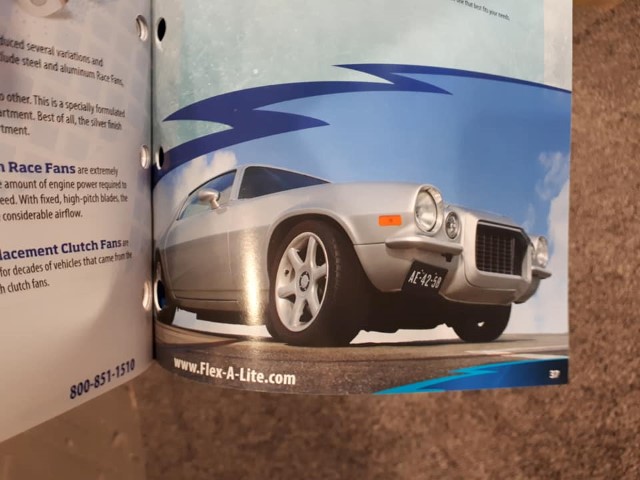 November 2016, I decided that I wanted to change from auto to a manual transmission and since finding a T56 here in the Netherlands was very hard and expensive I had to settle for an old school 4 speed. I started looking for a transmission and came across an add that said Corvette transmission and it had 1 bad quality picture with it. I immidiately recognized the LT1 T56 and gave the guy a call. It was cheap so 15 minutes later I left work, jumped in my car and drove 2 hours to get it so I would not miss out on this deal. The transmission was not complete, basically just the trans and the bellhousing so a lot of parts needed to be bought including a special flywheel to mate the LT1 T56 to a 400 Small Block Chevy motor. After a lot of cleaning it looked nice again.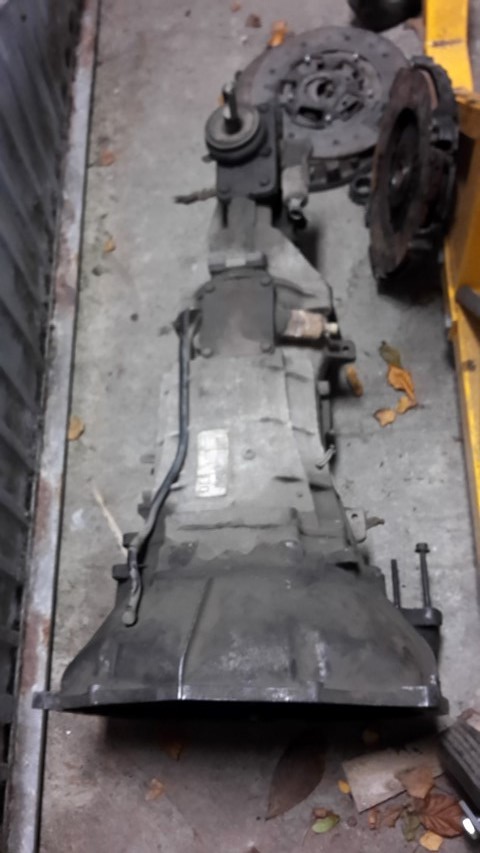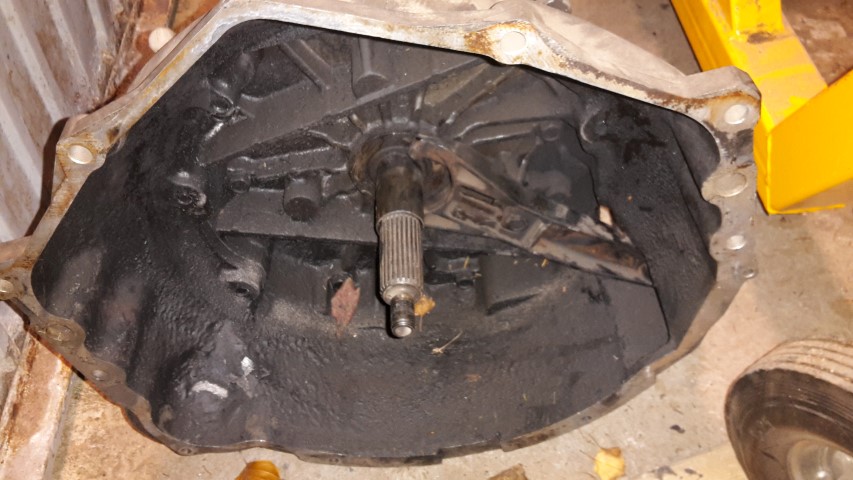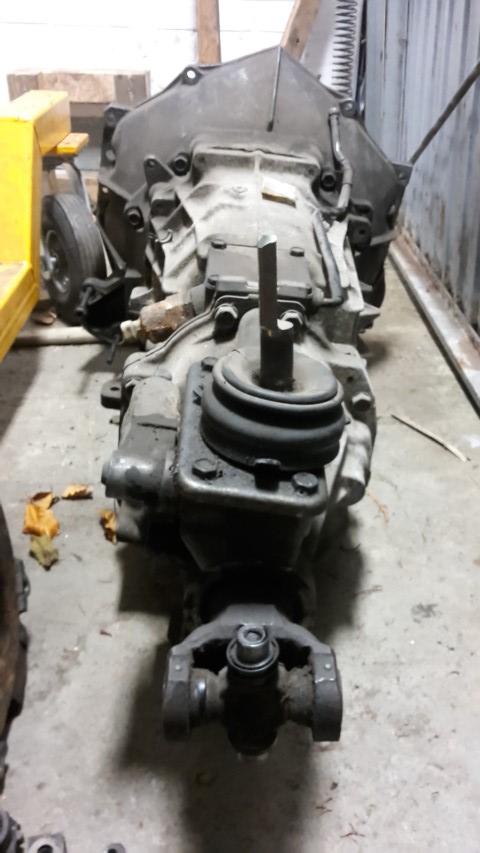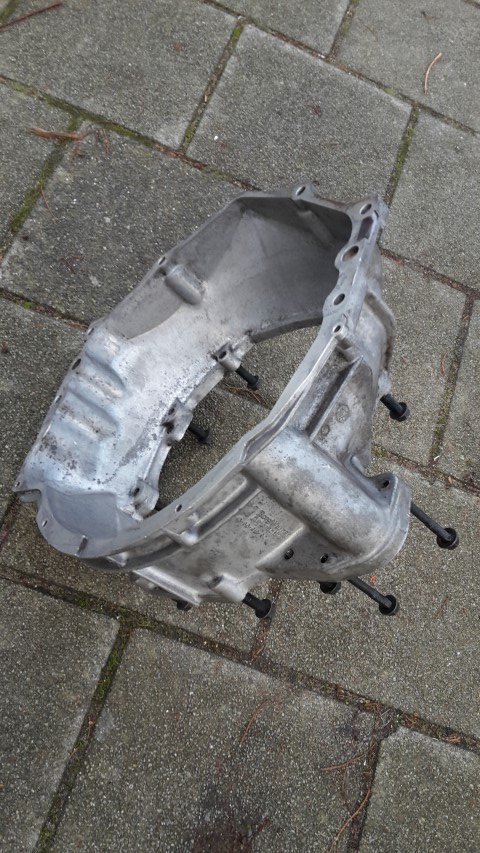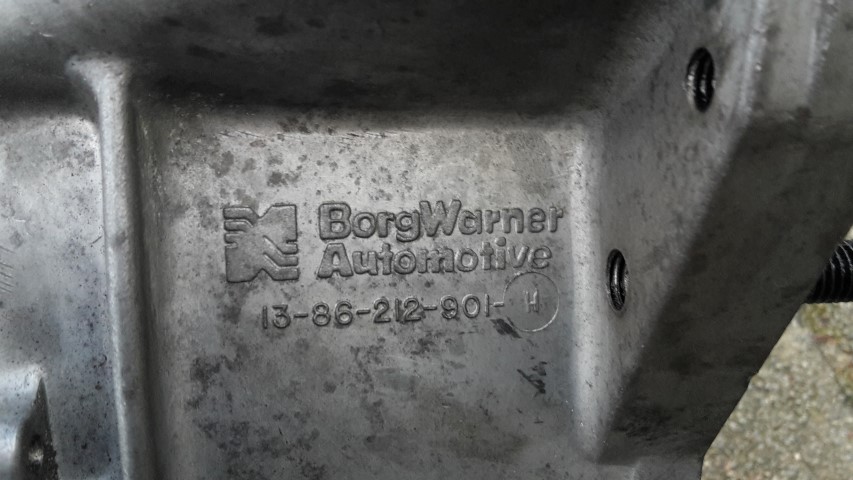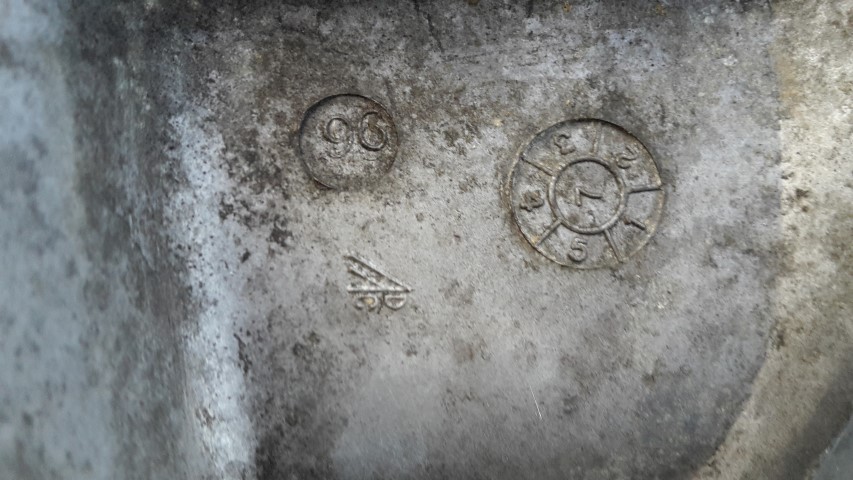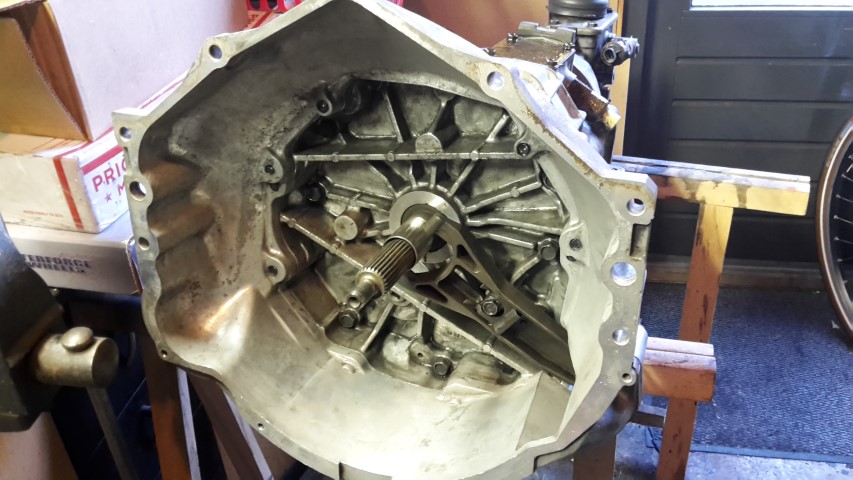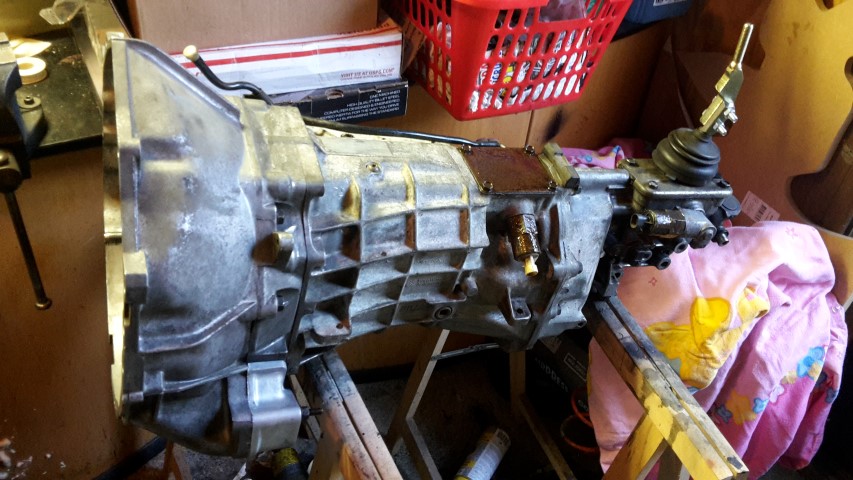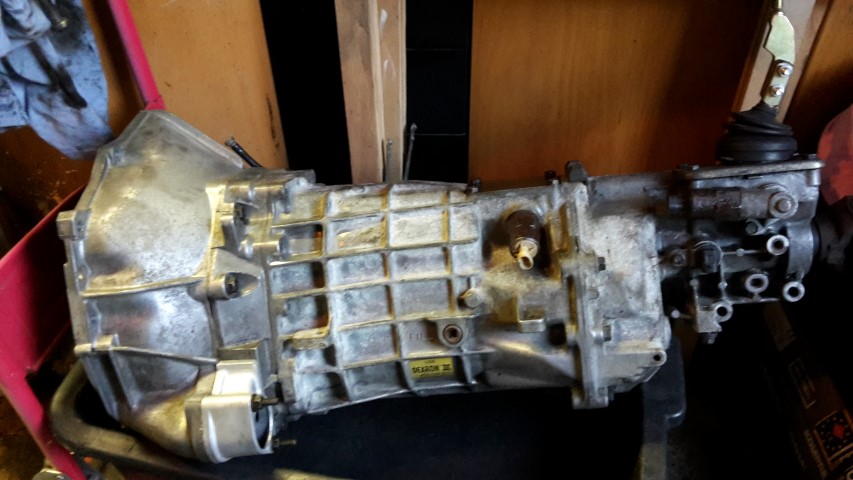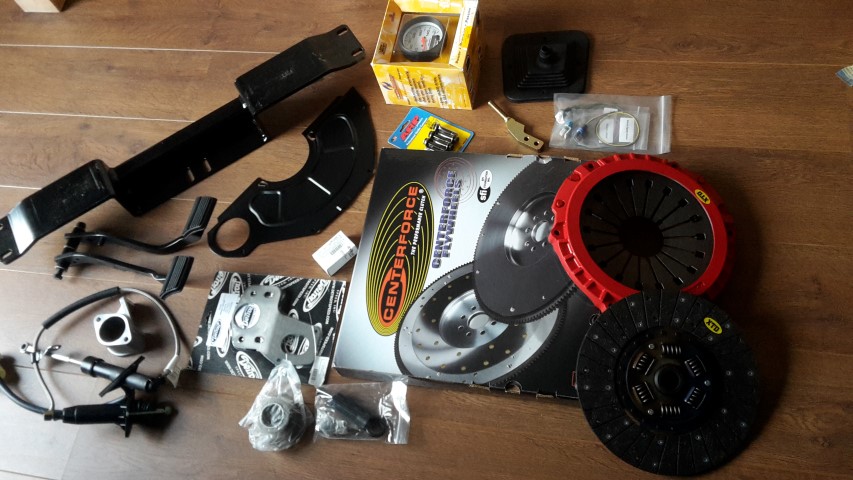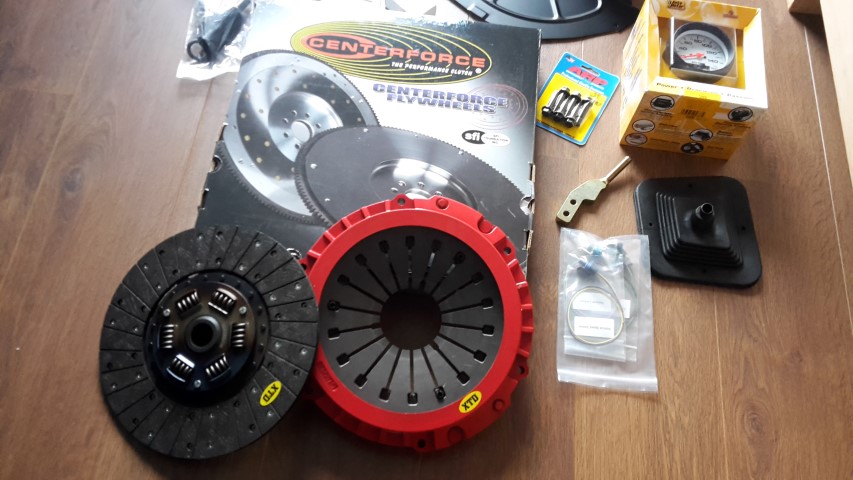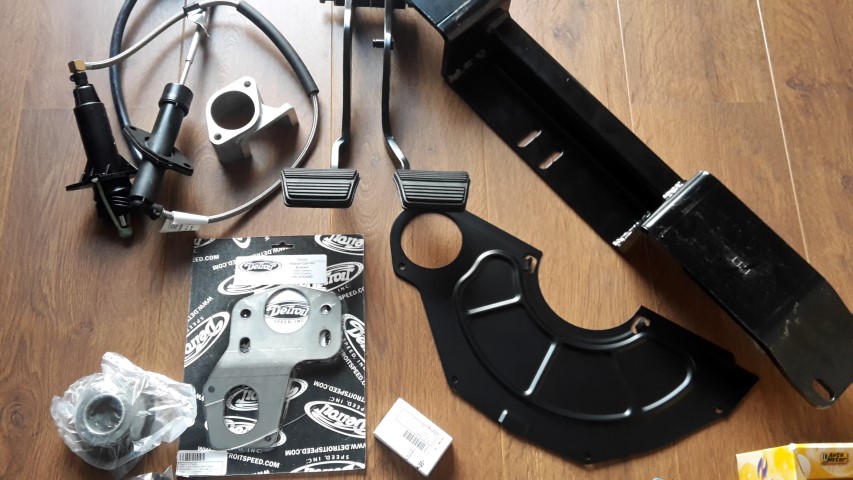 2017, Ever since I had seen the new Delrin control arm bushings that Ridetech introduced as part of their StreetGRIP suspension package during SEMA 2015 I knew that was what I wanted on my Camaro. They had a display with 3 control arms, 1 with original rubber, the second with Polyurethane and the third with the Delrin bushings installed. It was very clear when I felt the difference in movement, the Delrin offered very little resistance and no bind which will allow the springs and shocks to do their work more effective. I had been satisfied with the performance of the Polyurethane up till then…knowing I could improve with just a small investment. I would have loved to put on the complete system which consists of front coil springs, swaybar, shocks, the very light composite leaf springs and of course the Delrin bushings but I had already made a lot of upgrades on the other parts so I decided on just the bushings.
My coilover springs were too soft and I already had bought heavier (higher spring rate) ones. Another part I wanted to change was my spindles, nothing really wrong with them but I wanted to go for the C5 style spindles. I think they are an improvement over stock and will allow me to run other wheels in the future since there will be no spindle protruding past the wheel mounting surface.
I cleaned up my 2nd garage so I could move the Nova there while I work on the Camaro. My garage is actually pretty small…just 2.7 x 5.7 meter (9 x 19 feet) but I managed to build my cars in there. I put the Camaro on jack stands and after removing the wheel I removed the brake caliper from the spindle and got it out of the way. I left the brake line attached since I did not need to replace the brakes. Then turned down the coil spring adjustment nuts, loosened the ball joints and removed the spindle. This is the easy part when working with coilover shocks, no need for a spring compressor. After removing the coilover I took out the upper (keeping the alignment shims in the correct place and order!) and lower A-arms, now it was time to remove the old and put in the new bushings. Ridetech offers a very cool bushing installation and removal tool for just $100 which I think is the best invention since sliced bread….no need for a shop press, just basic hand tools so anyone can do this job in their garage or driveway. Designed for use with the new Ridetech StreetGrip Systems, The Bushing Removal Tool makes replacing OEM bushing a manageable task. No need to pay a shop to install ... The instructions didn't exactly show my type upper A-arm cross shaft but with all parts that came with the tool I got the job done.
So I took out the old bushings and installed the new Ridetech Delrin bushings and re-installed the A-arms (old one out and new one in only takes around 10 minutes!). Wow….a real difference in how freely they move up and down! I mounted the coilover with the new heavier springs, installed the new C5 spindles and put the brakes back in place. The other side was just repeating all steps and when I was done I only needed to set the ride height again. My Camaro already handled pretty good but I was amazed with how much smoother it rides now....and no more squeeks!!! :-) I am really happy with the result.... It's a relative cheap upgrade, took me 1 and a half day to install and it has made the Camaro a nicer car to drive.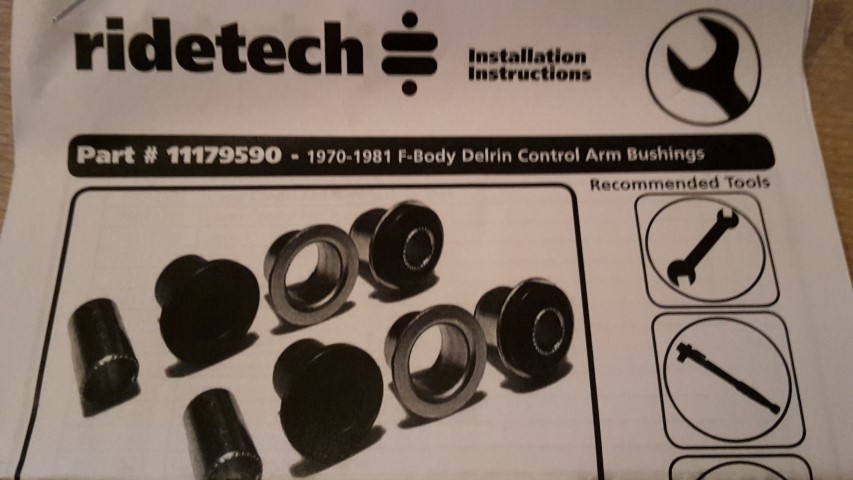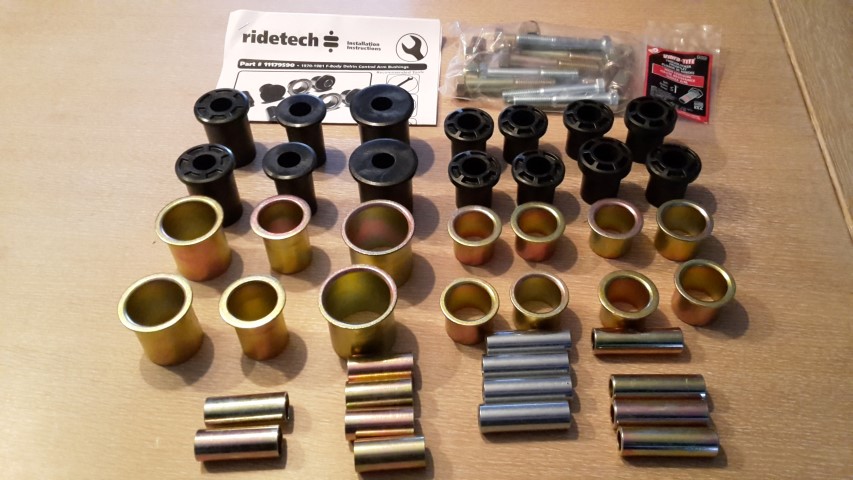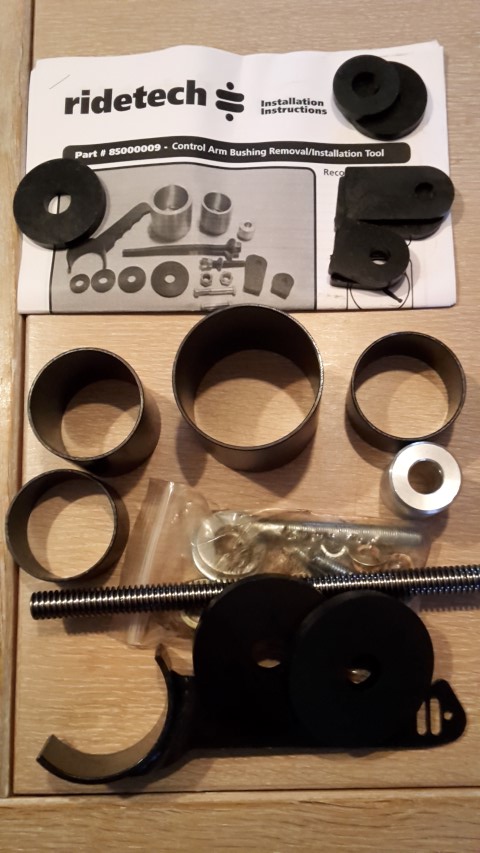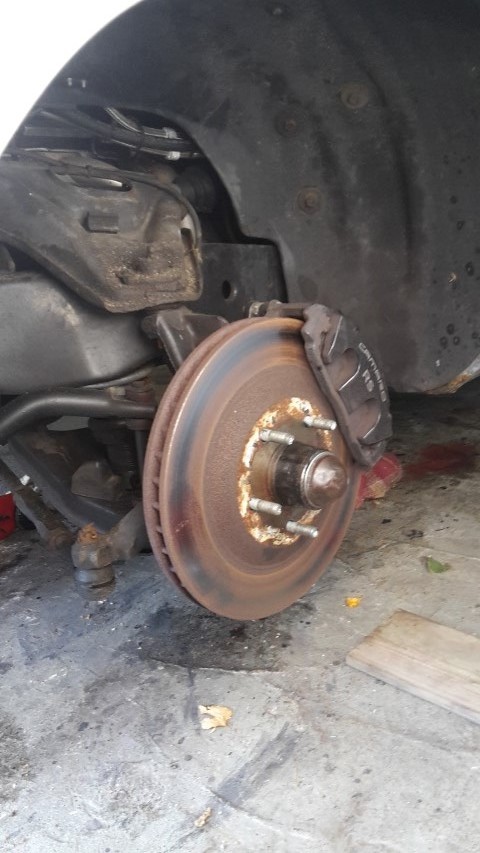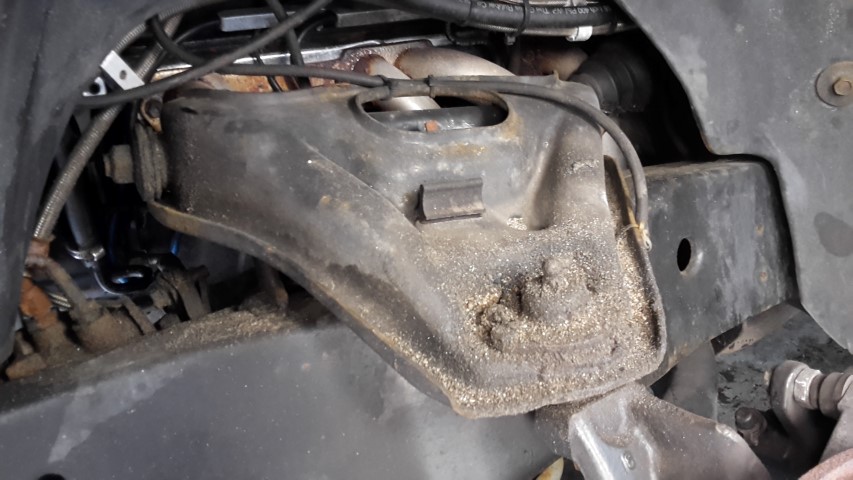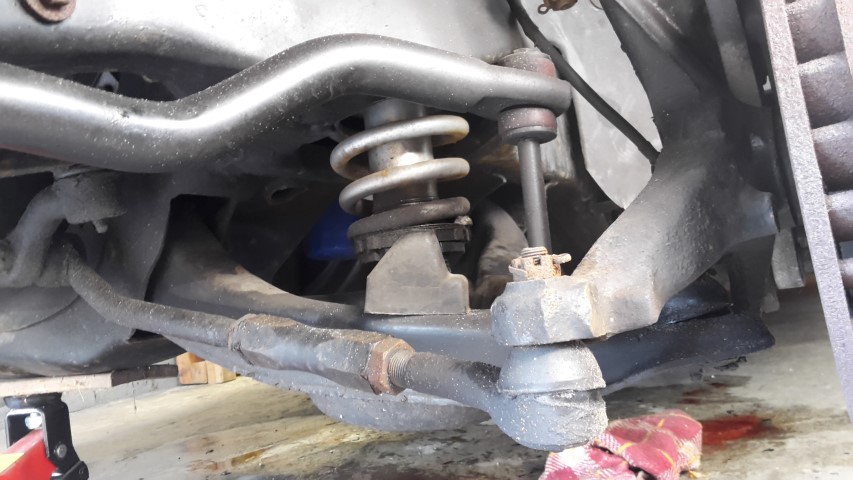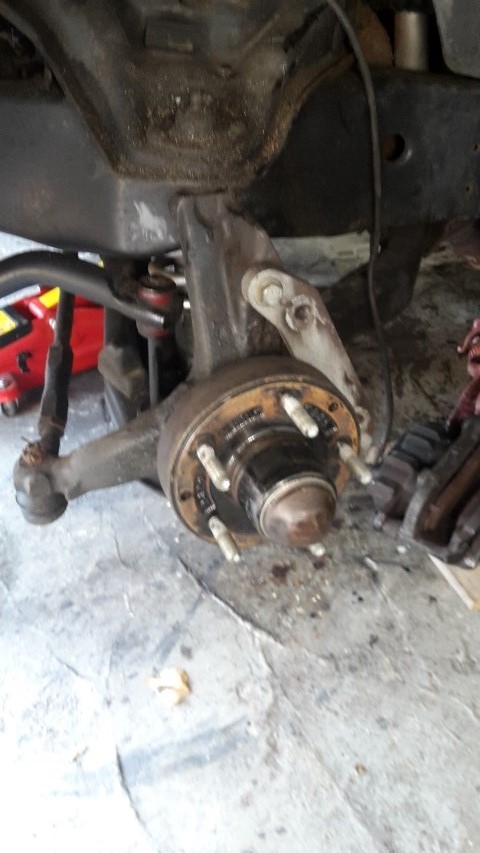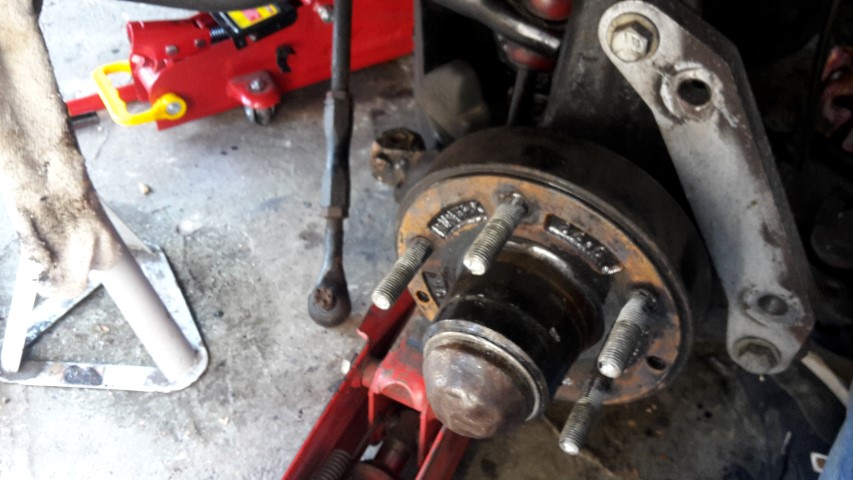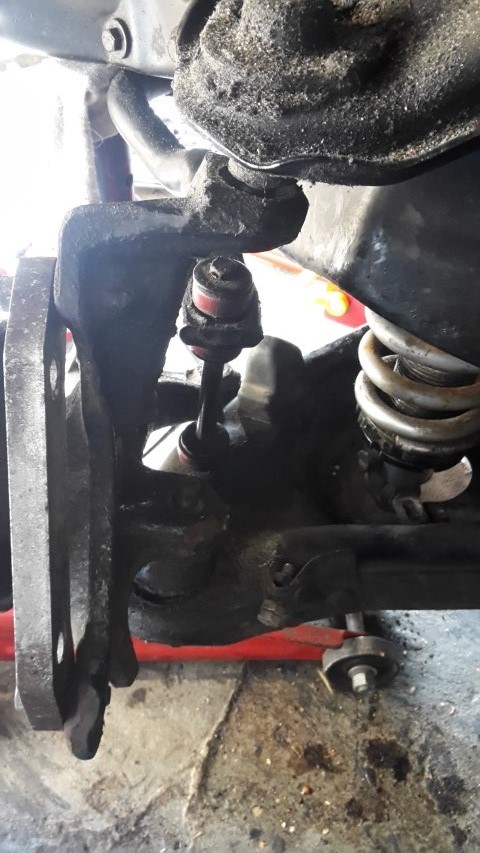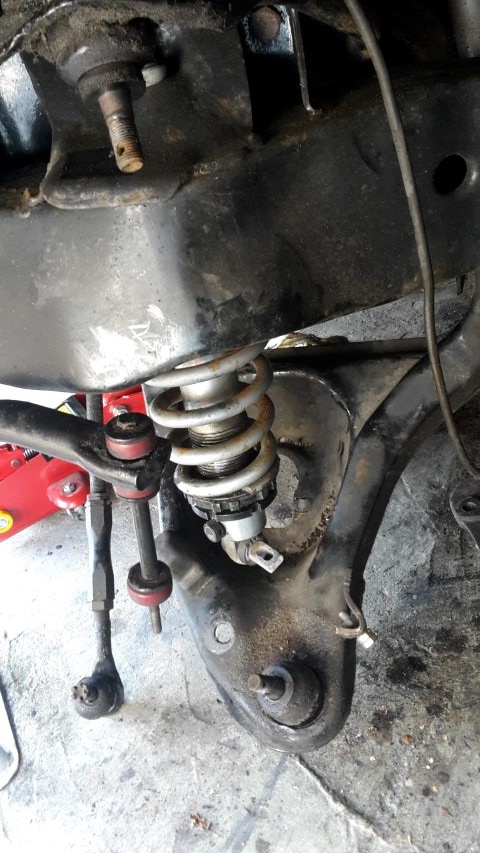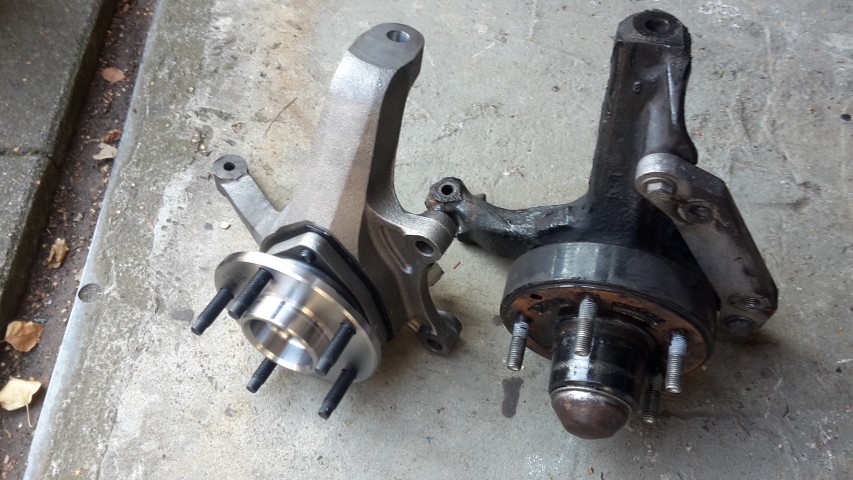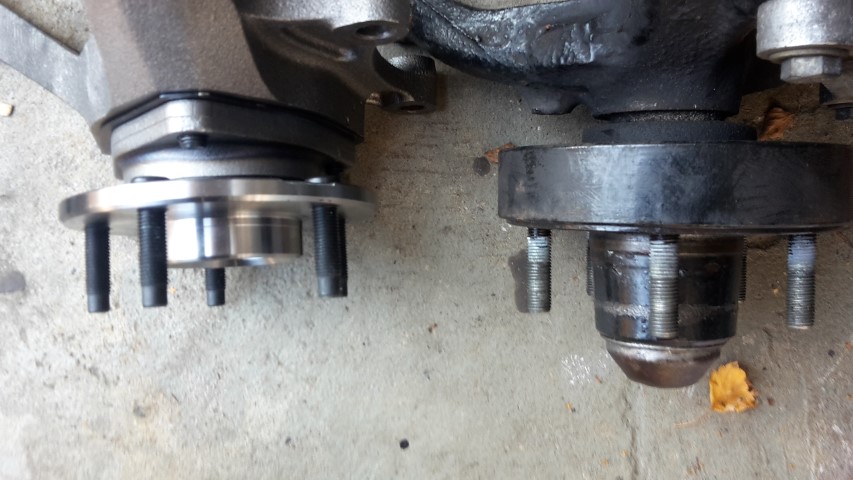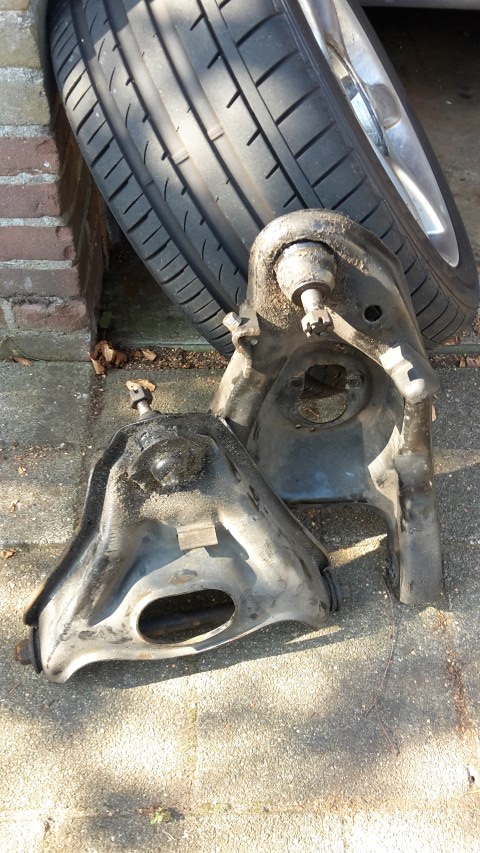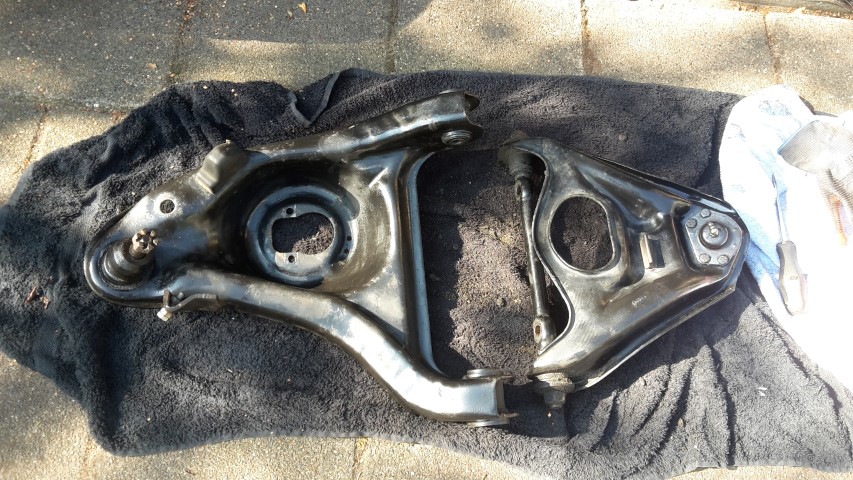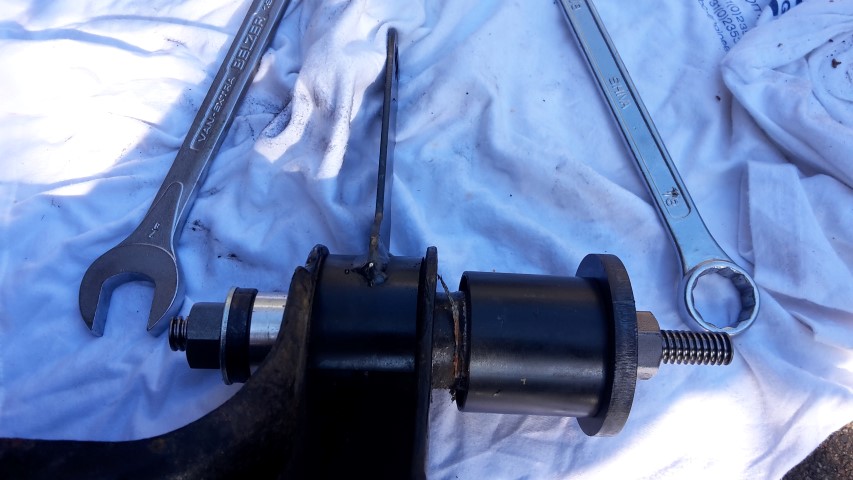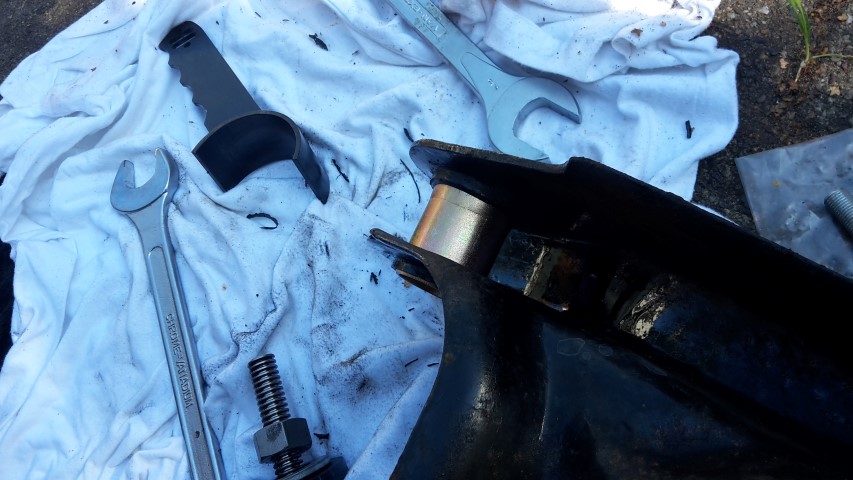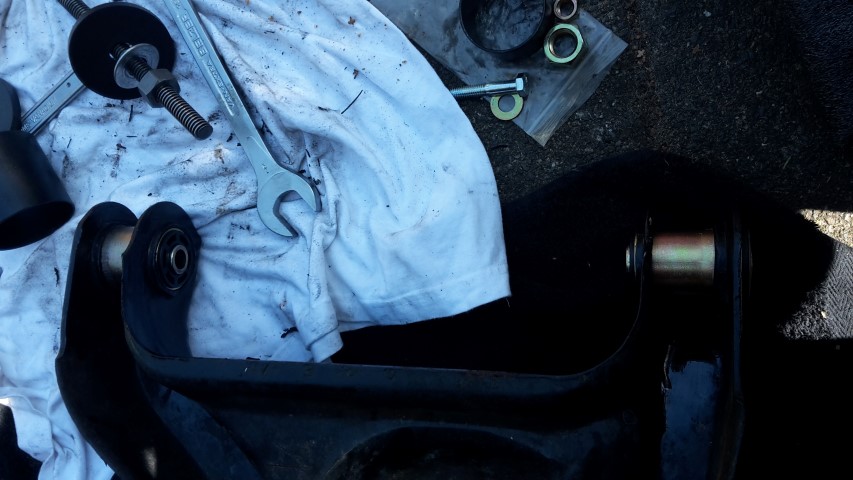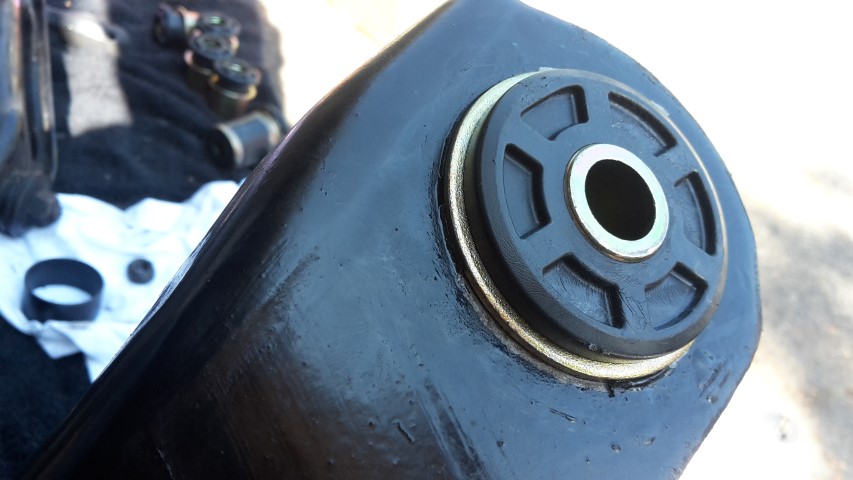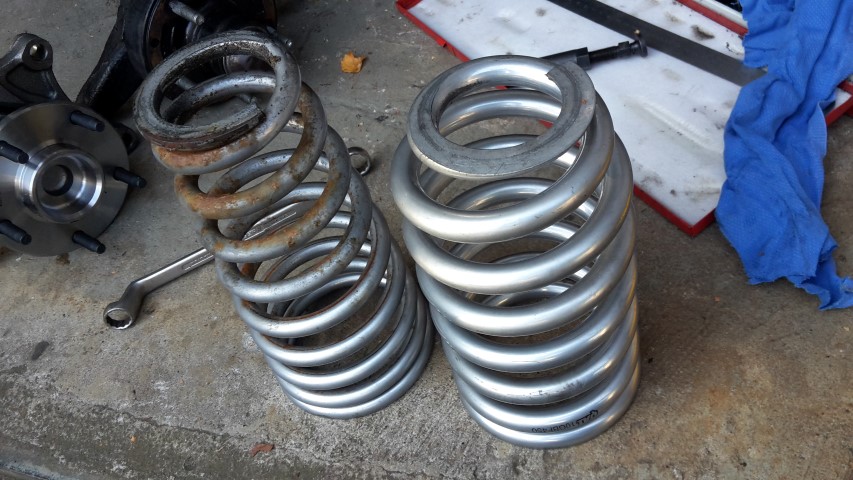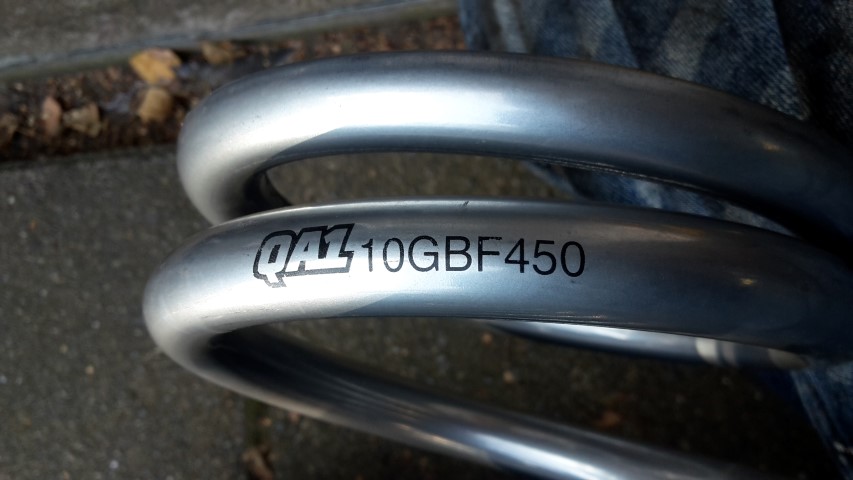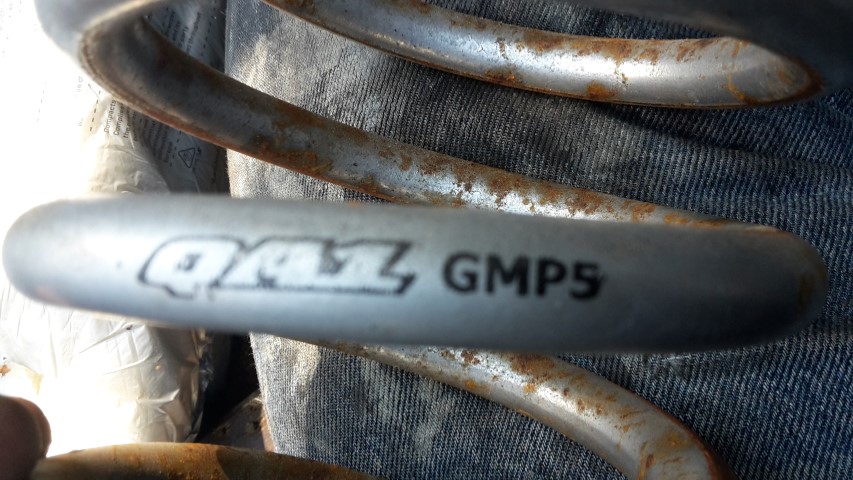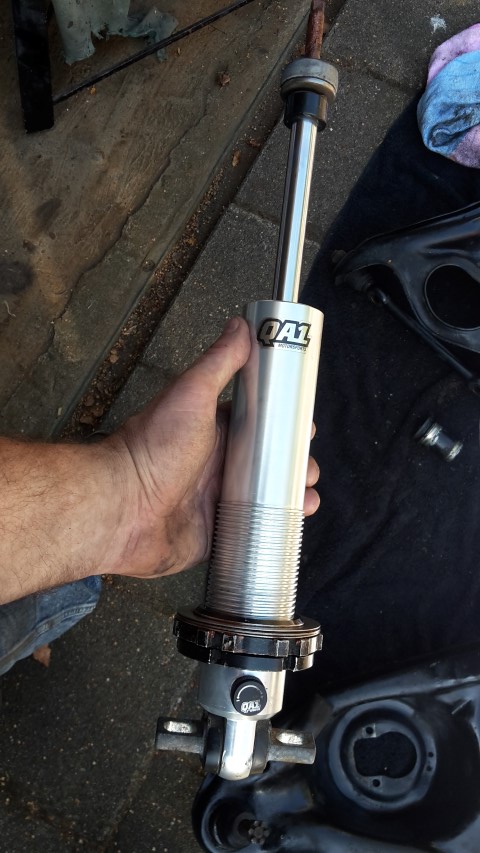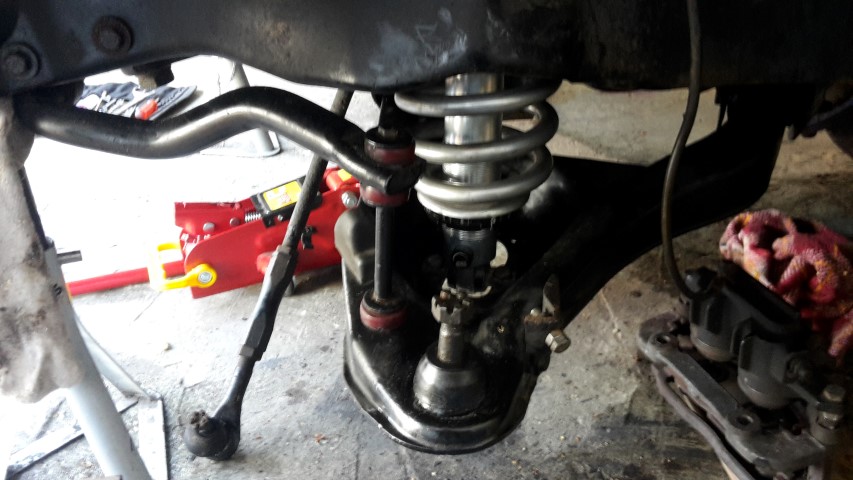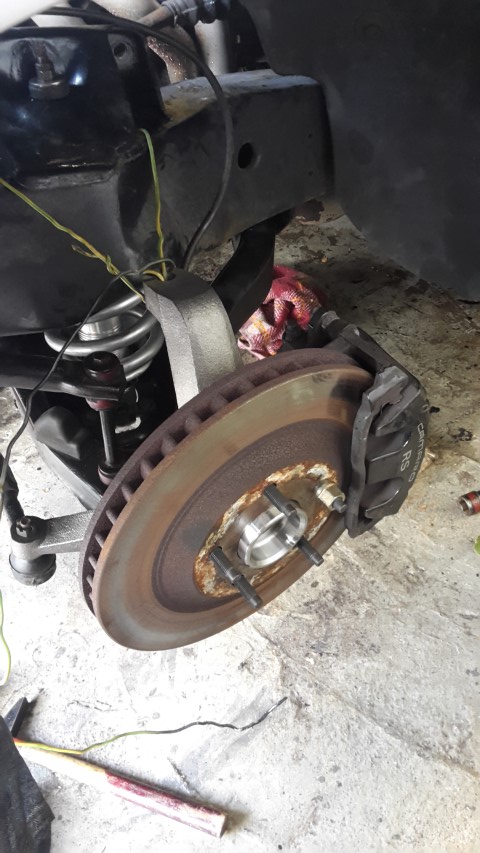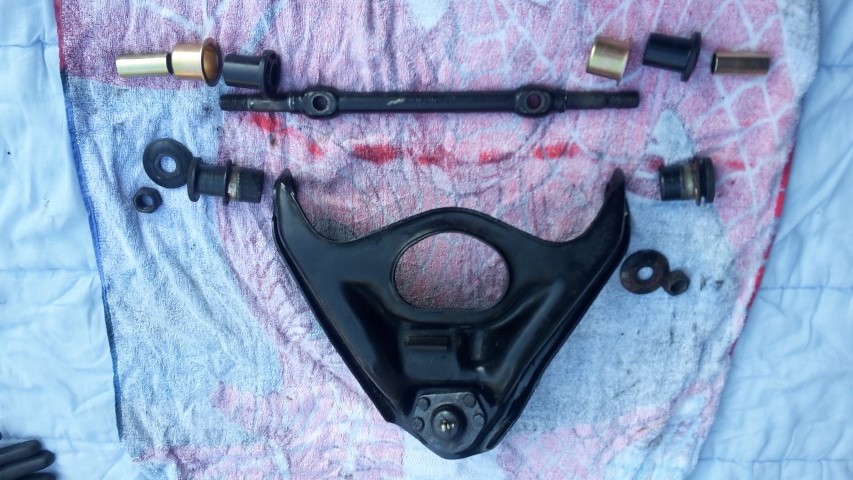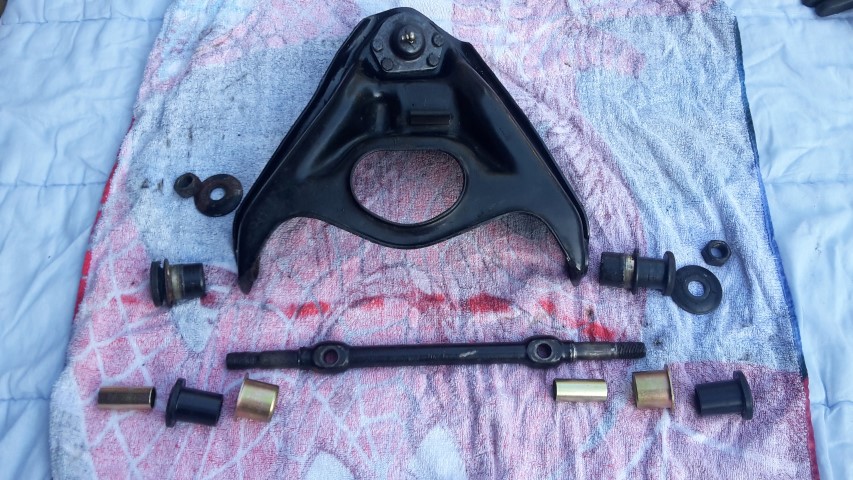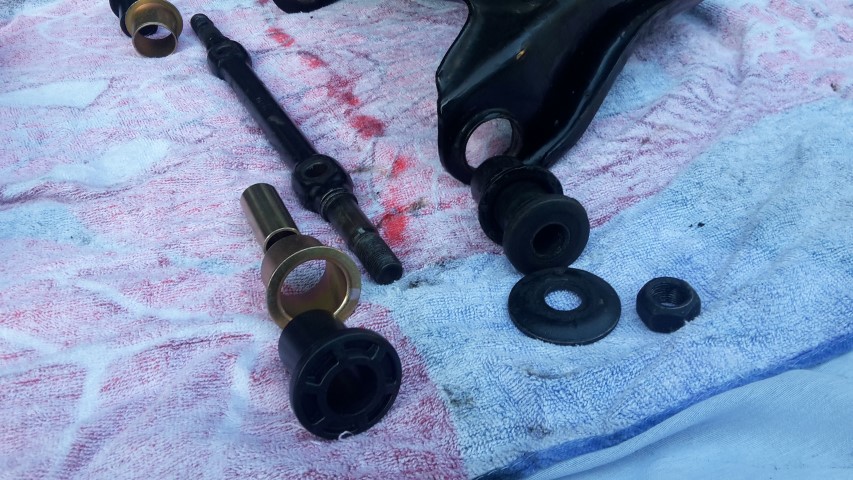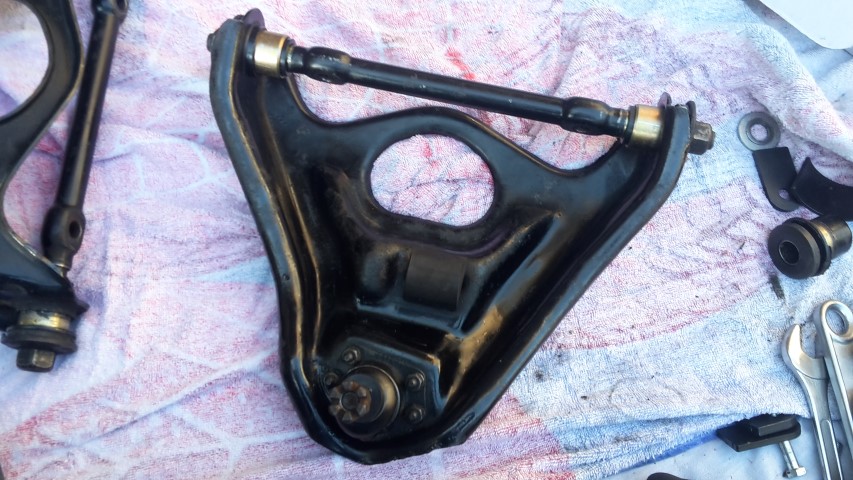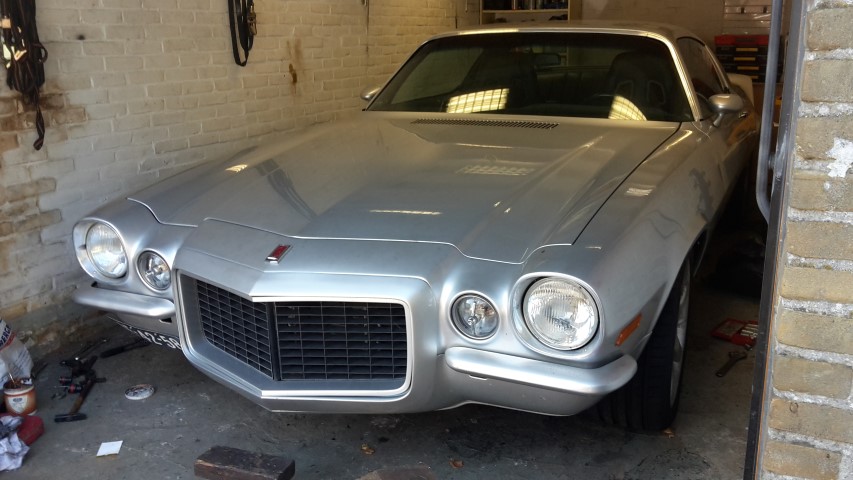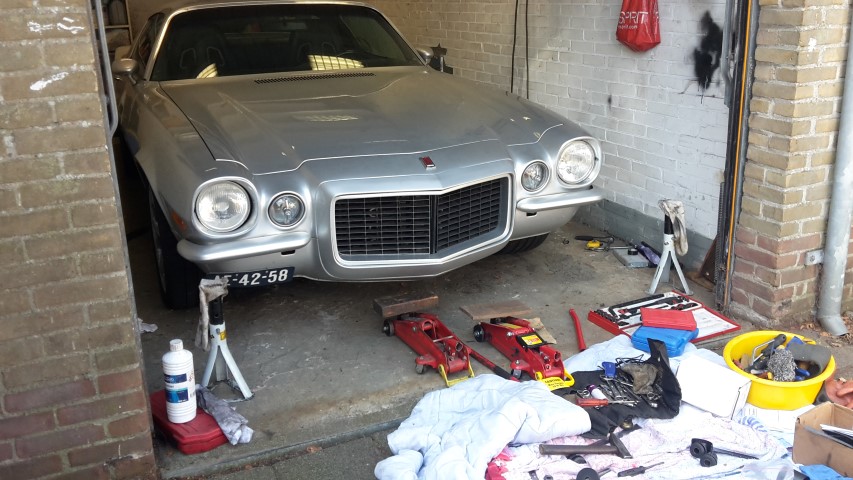 End of 2017 I found the wheels I've always wanted... BBS RK, front 18x8.5 and rear 18x10. They were rough but cleaned up nice, I took them apart, had them powdercoated and cleaned all bolts and threads. Only thing left is to brush the lips and have them clear coated and then I can re-assemble them. Also got new BBS center caps from Germany to finish it off. 3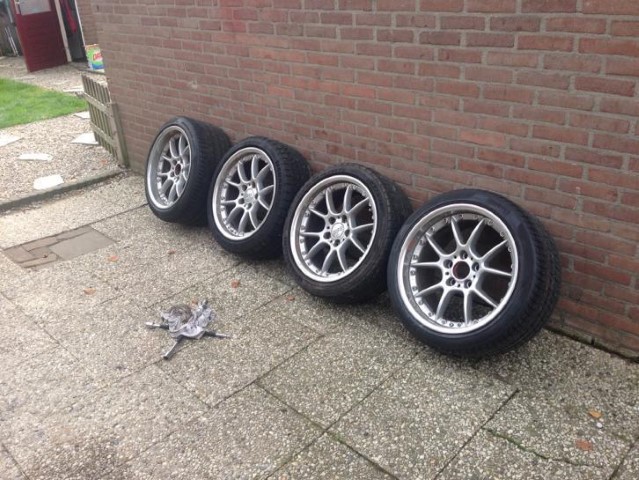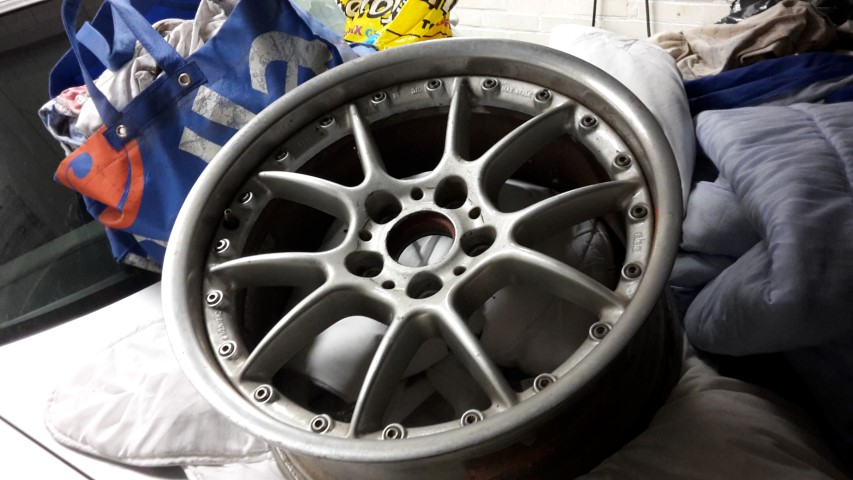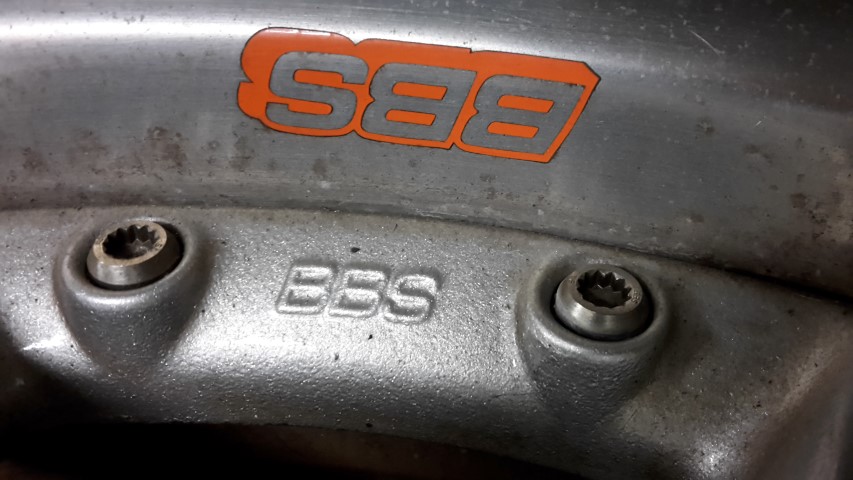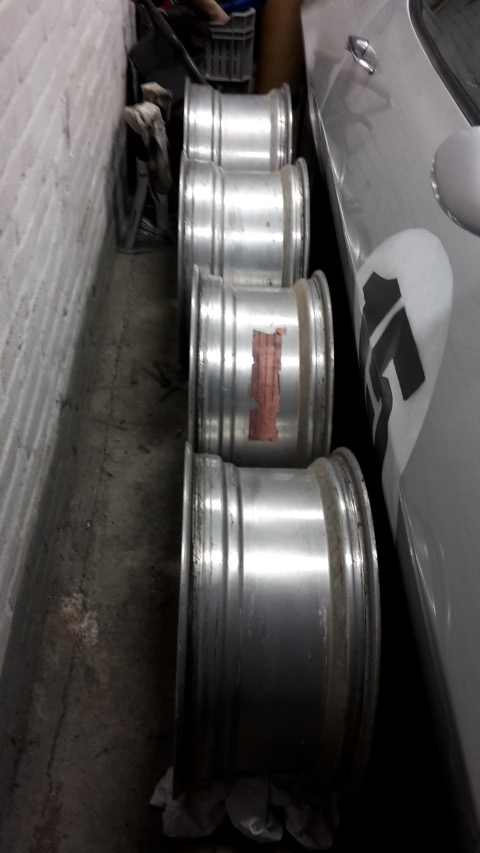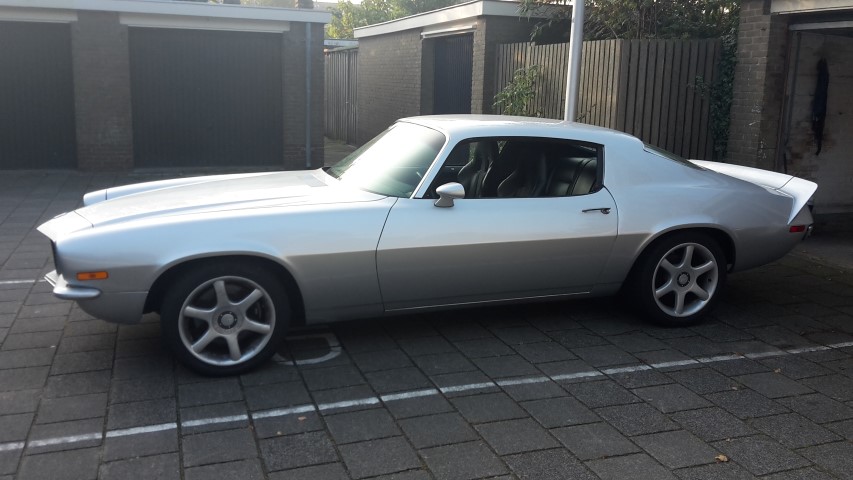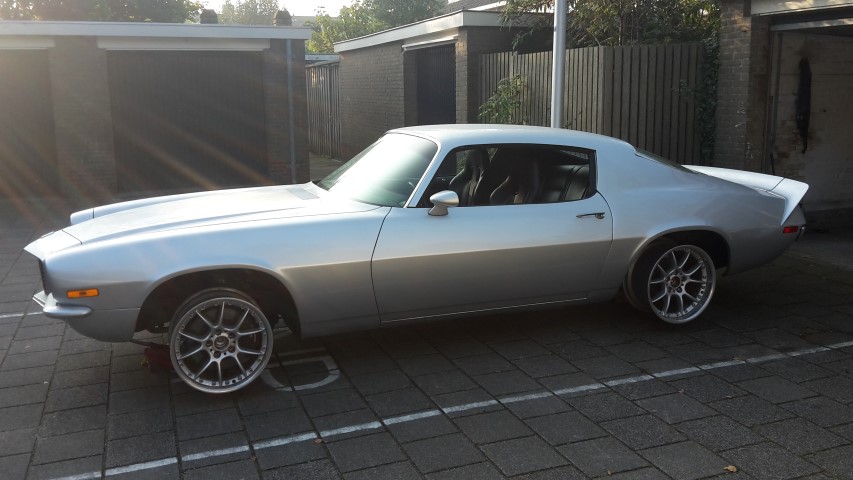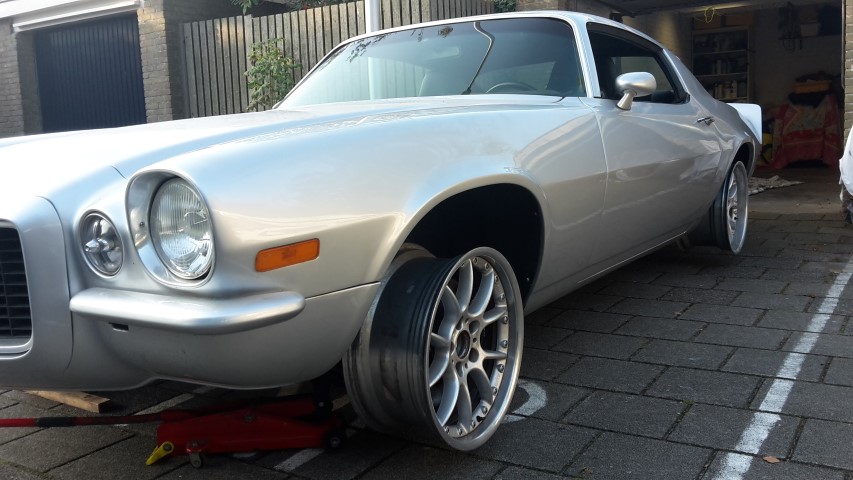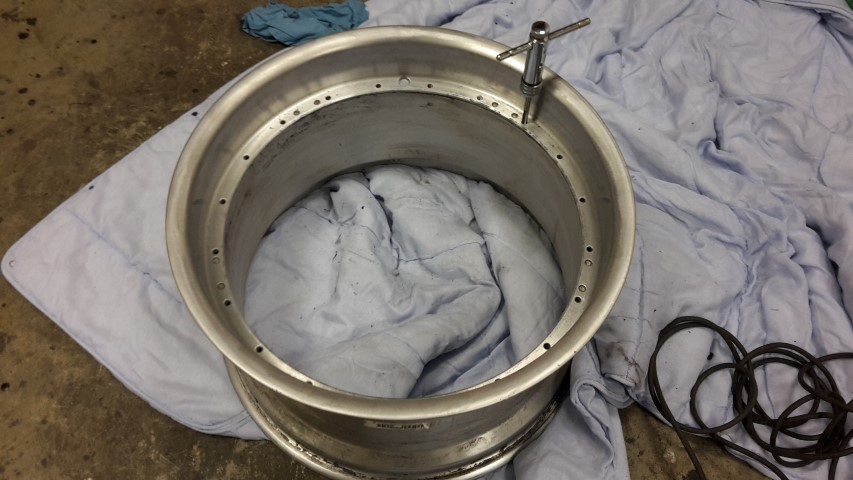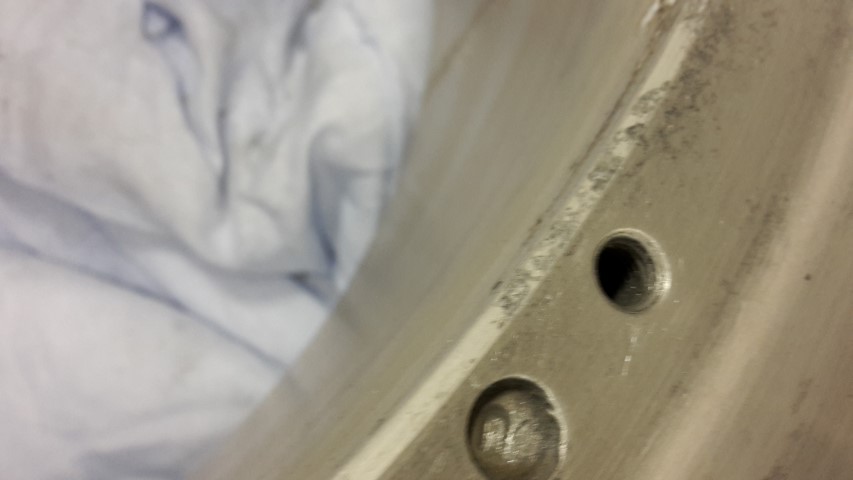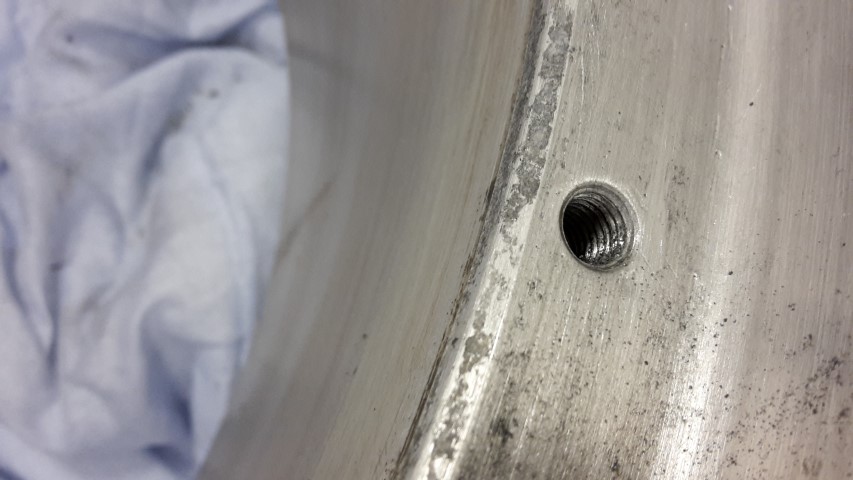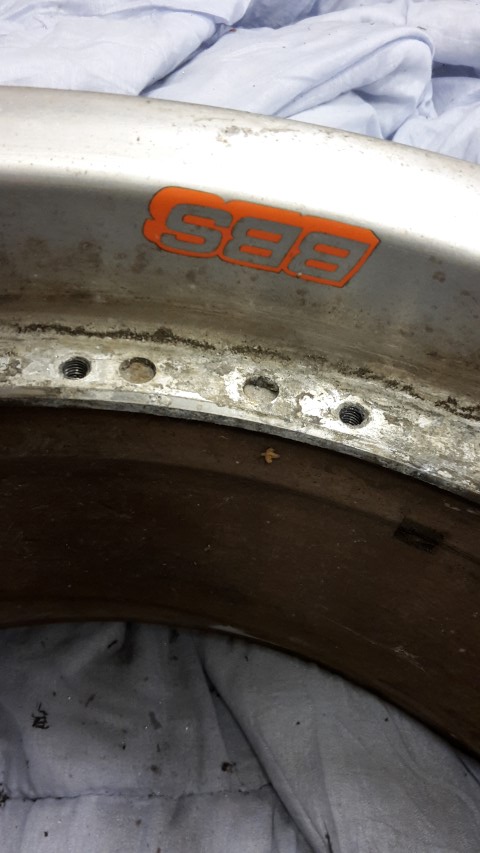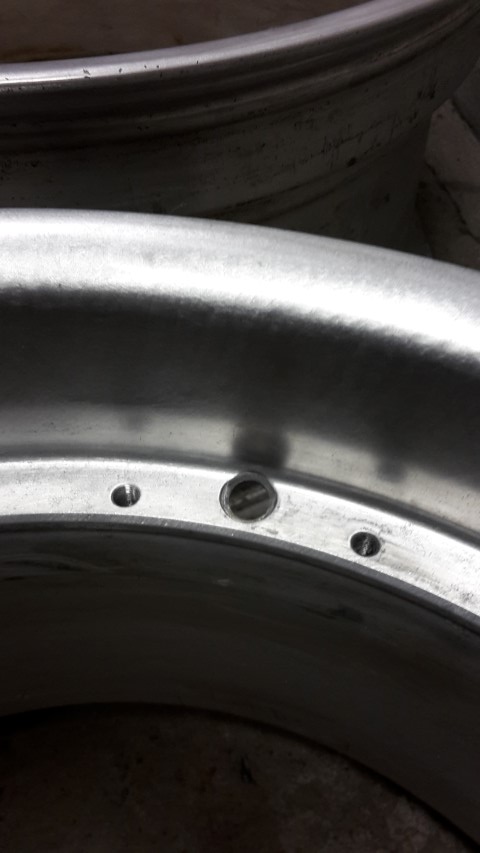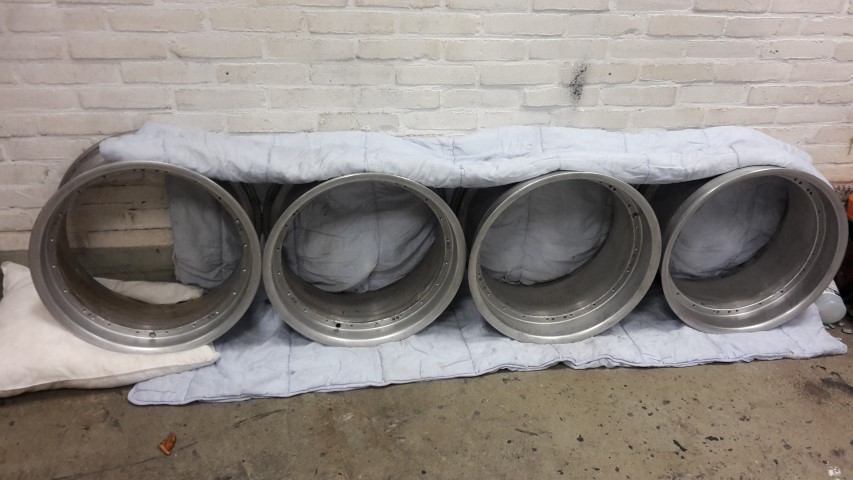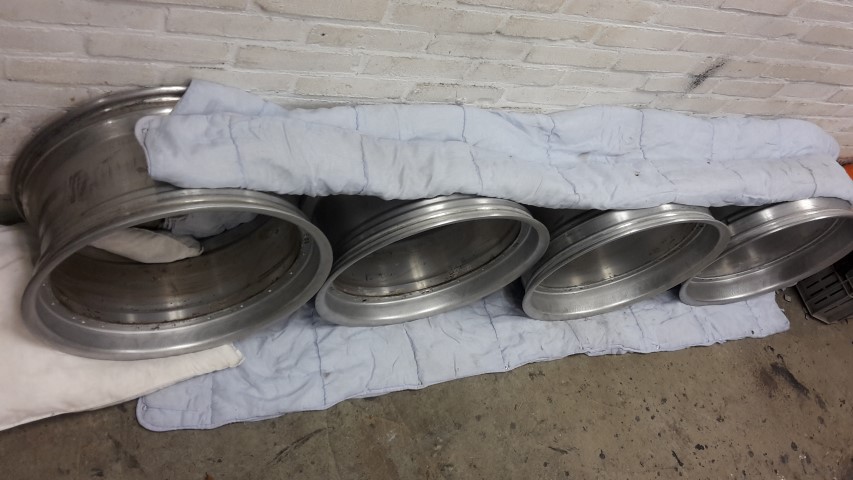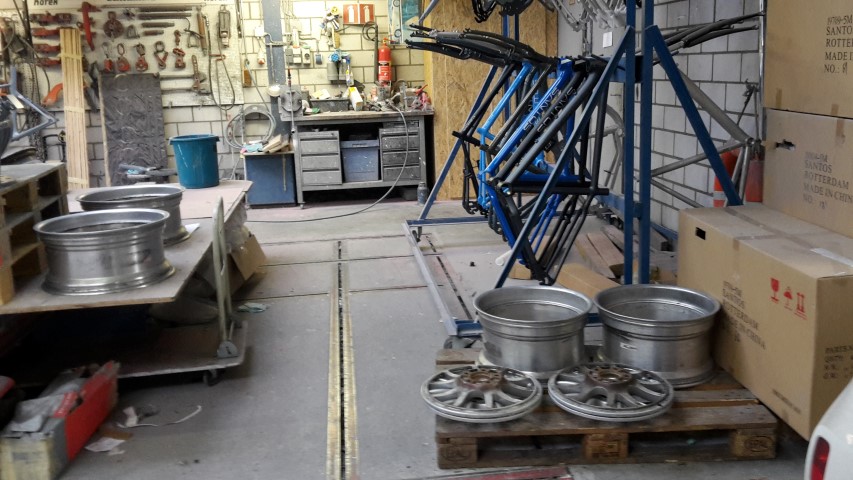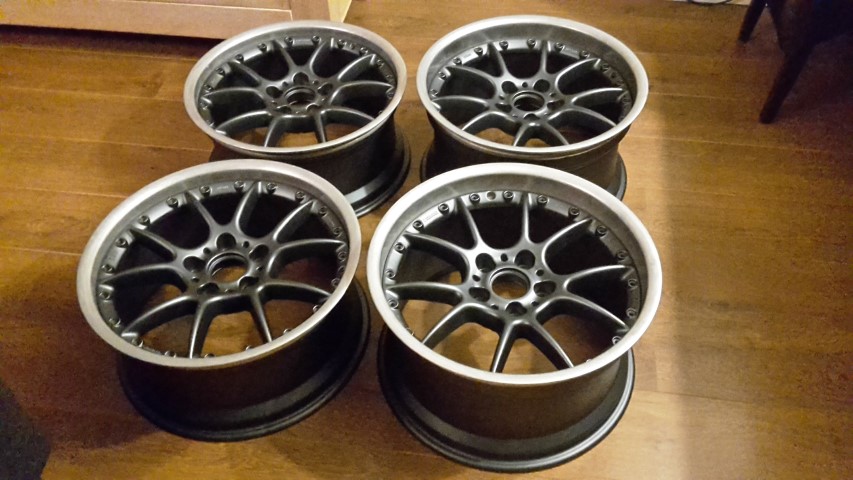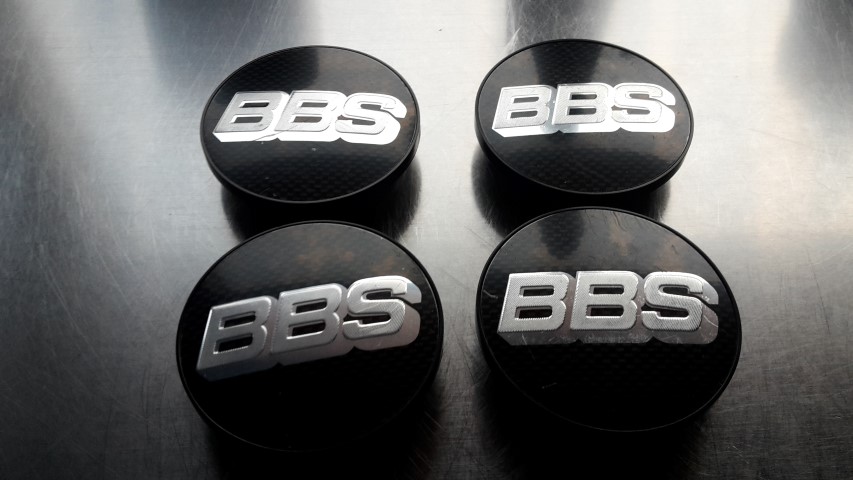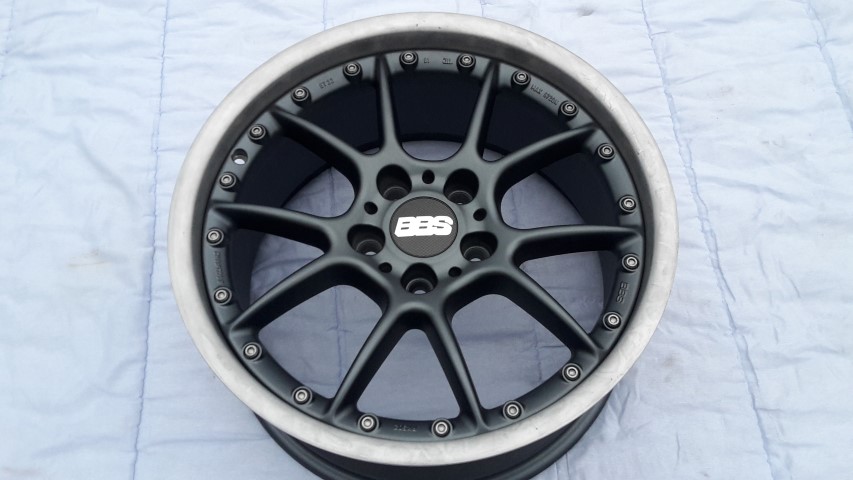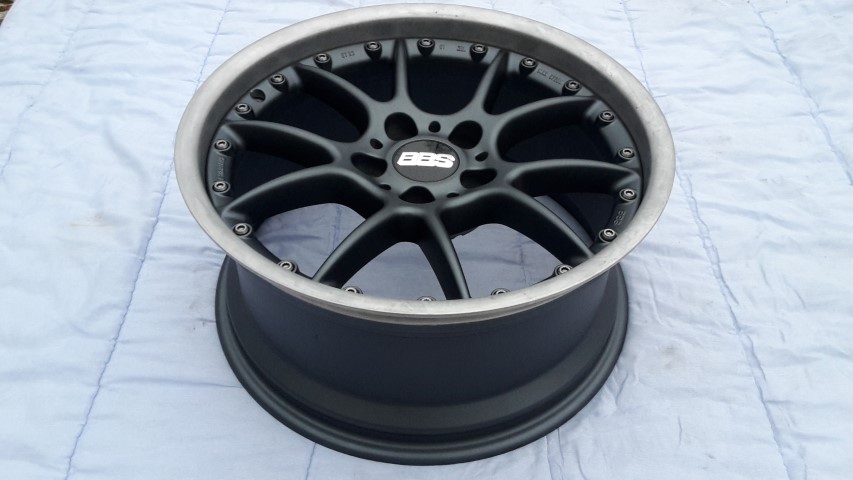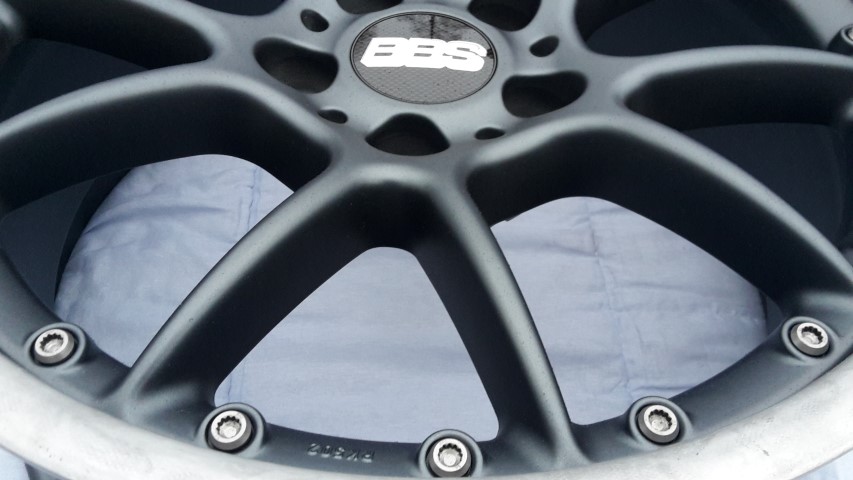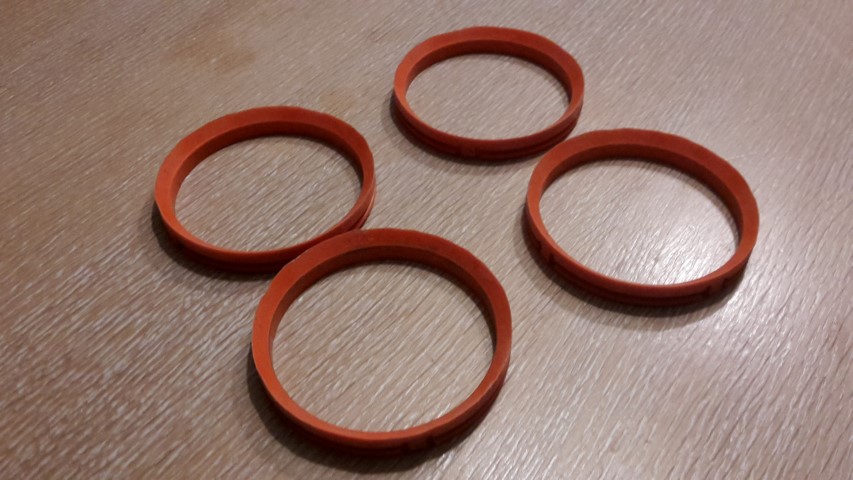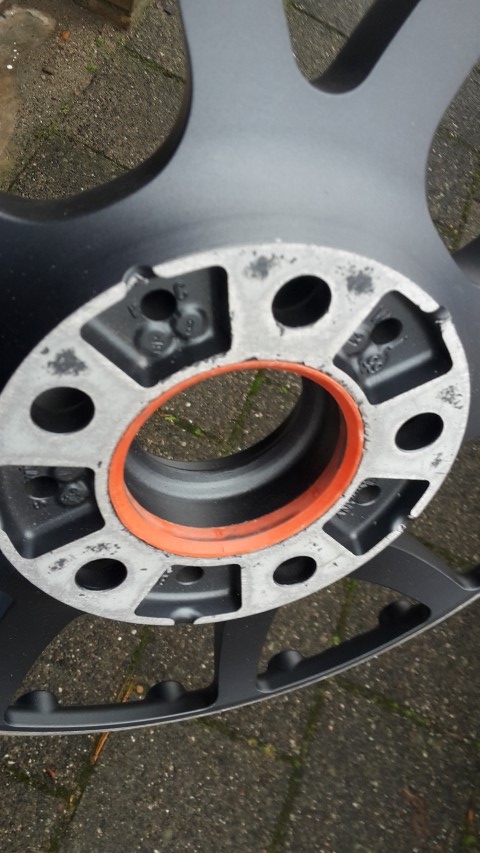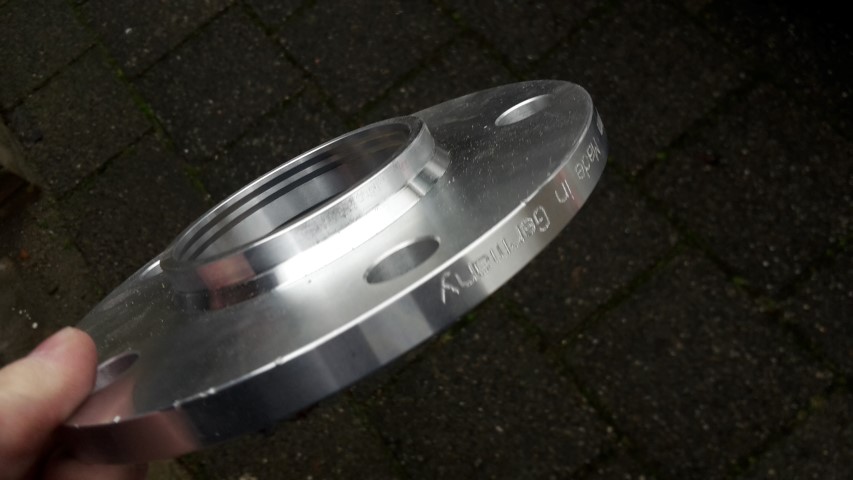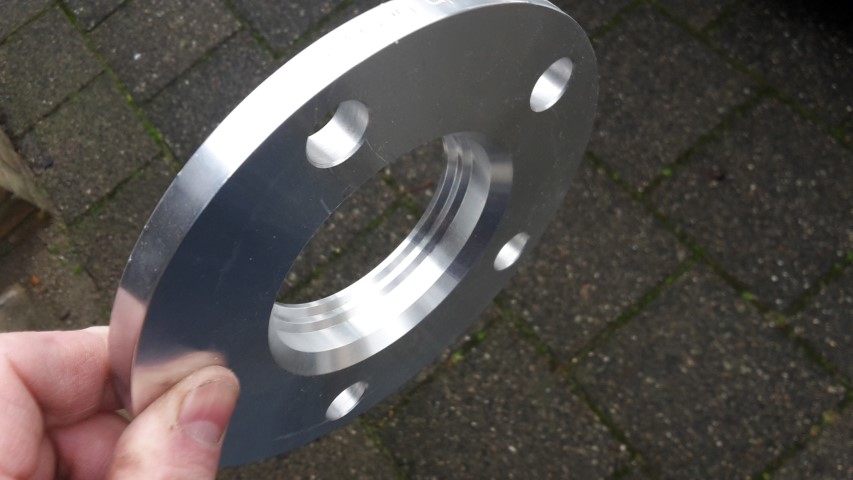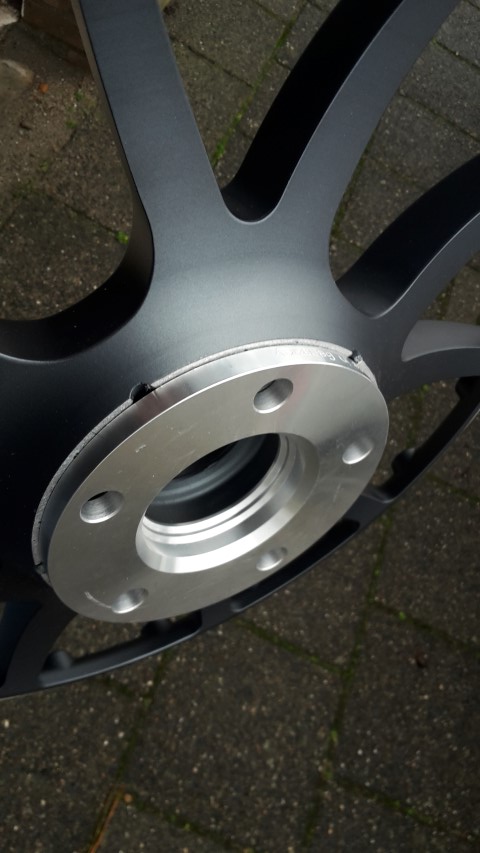 Due to the (hub centric) spacers I need longer wheel studs so I bought these. My stepdad machined them to the length I needed and I mounted them in the rear axles, fronts still need to be replaced.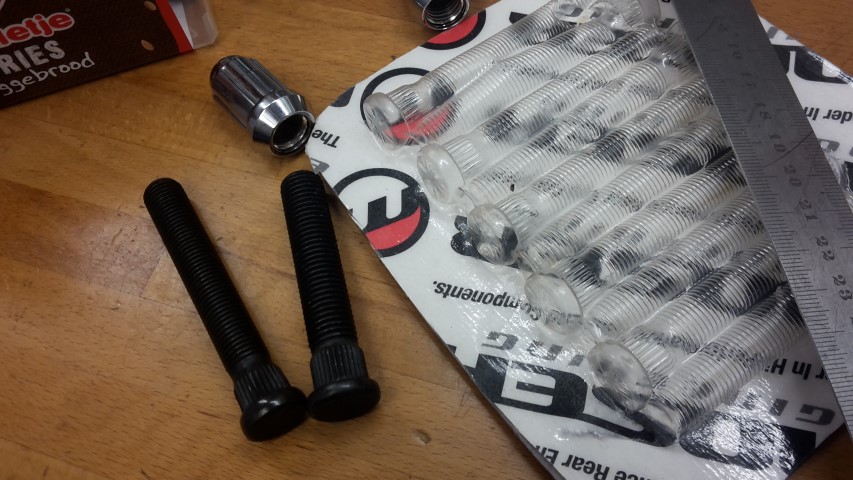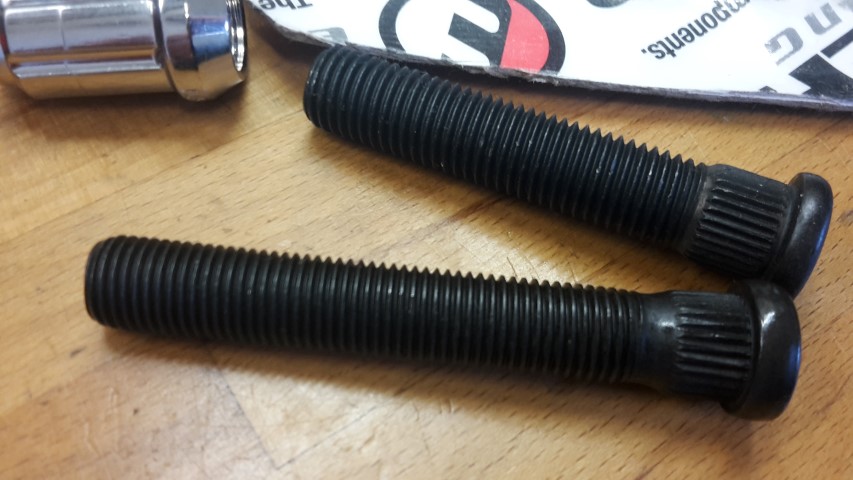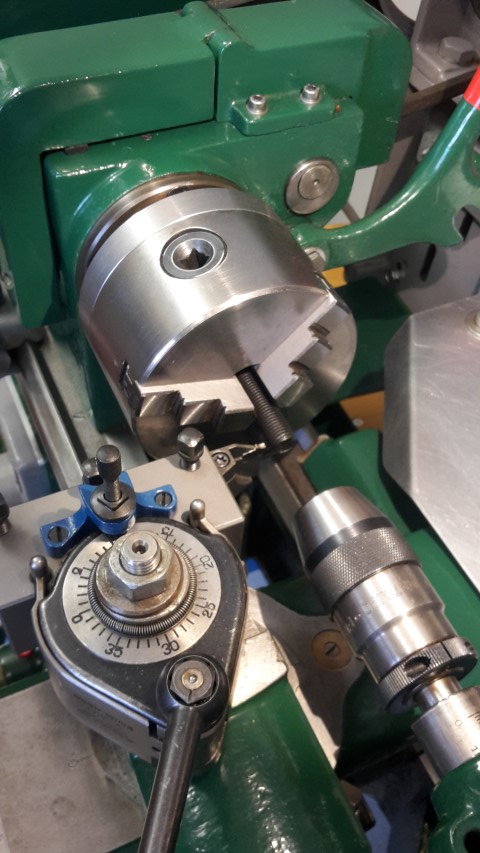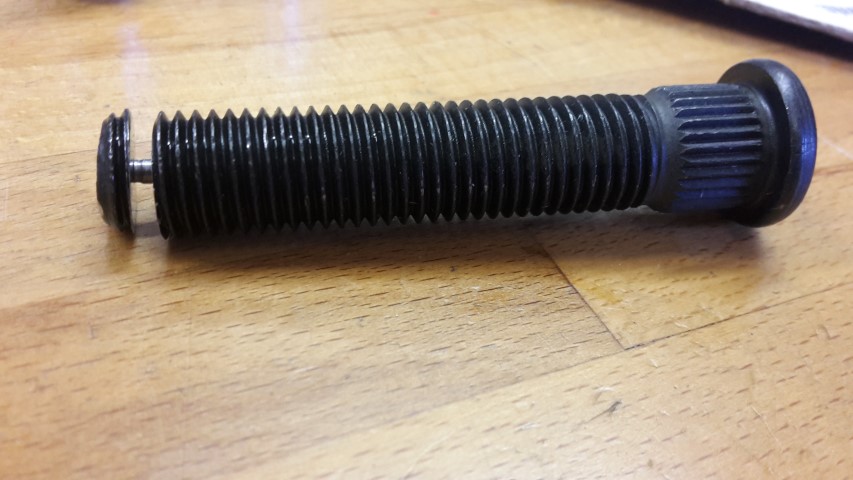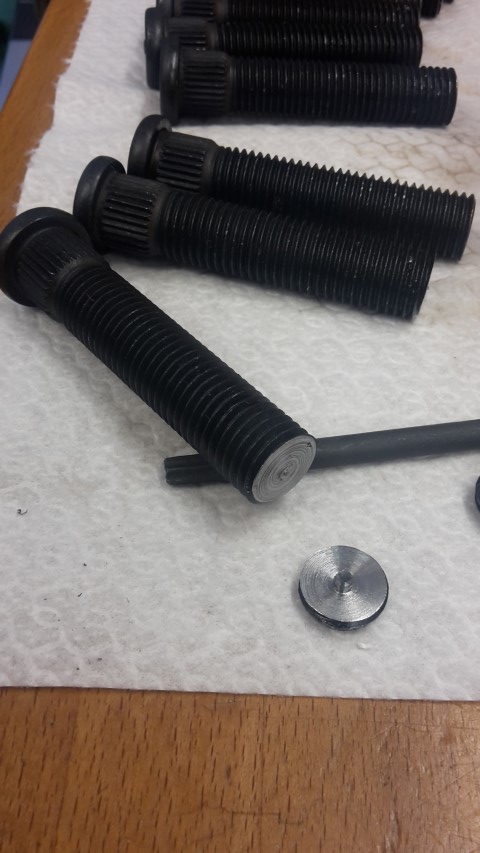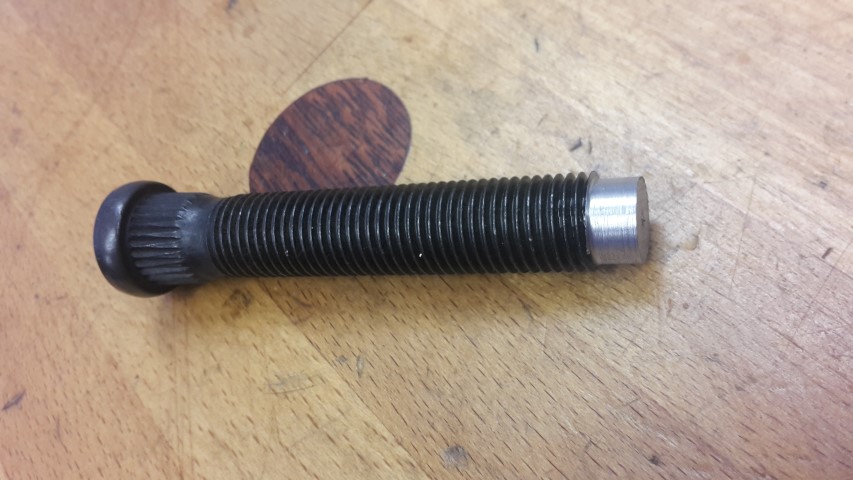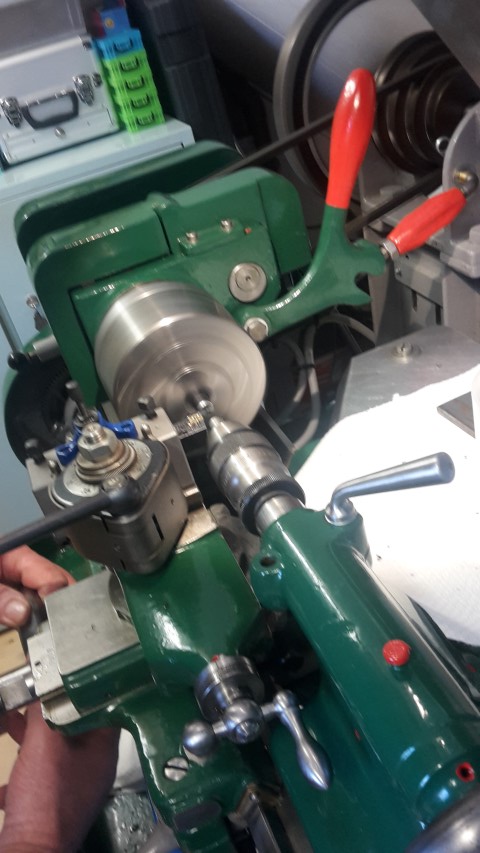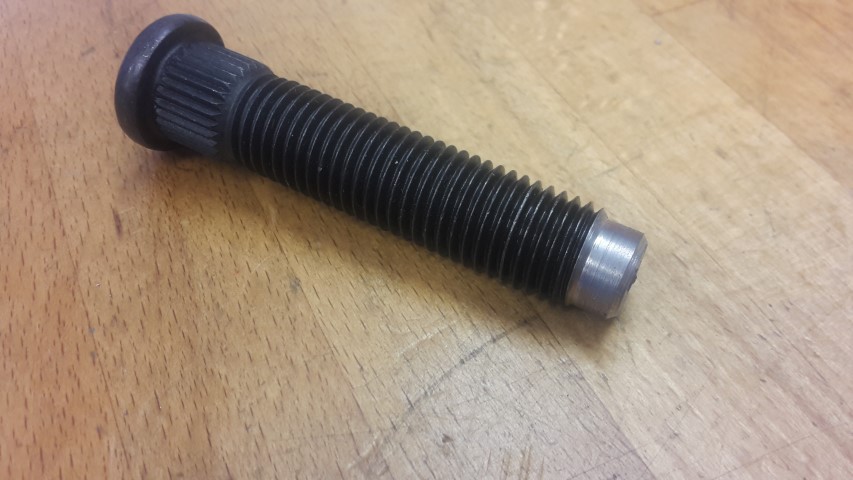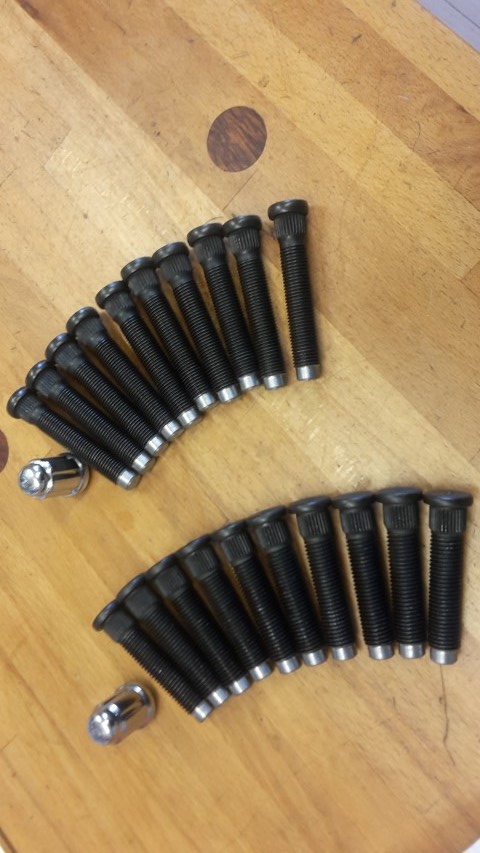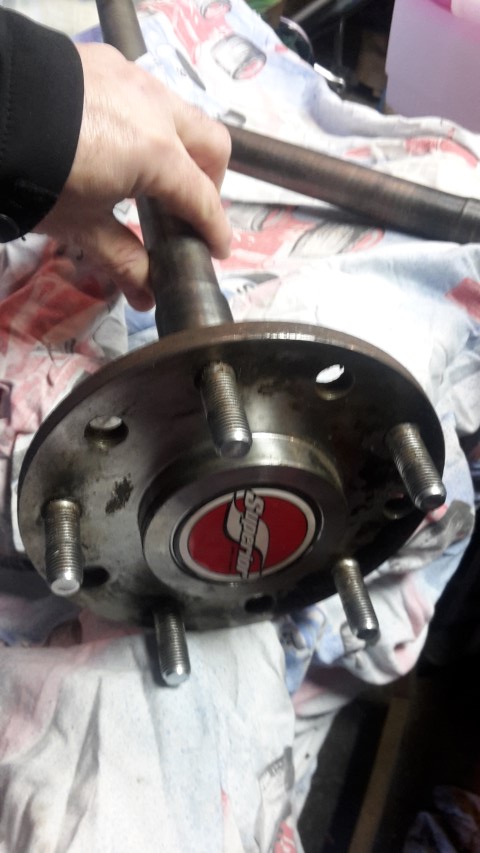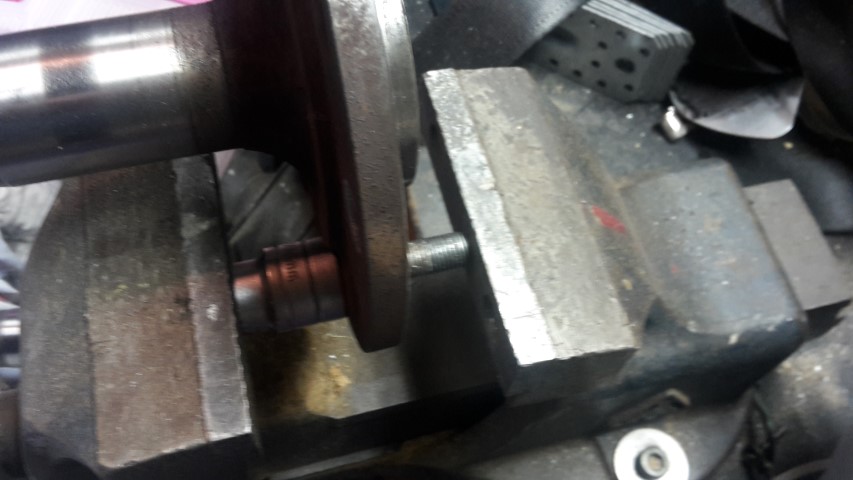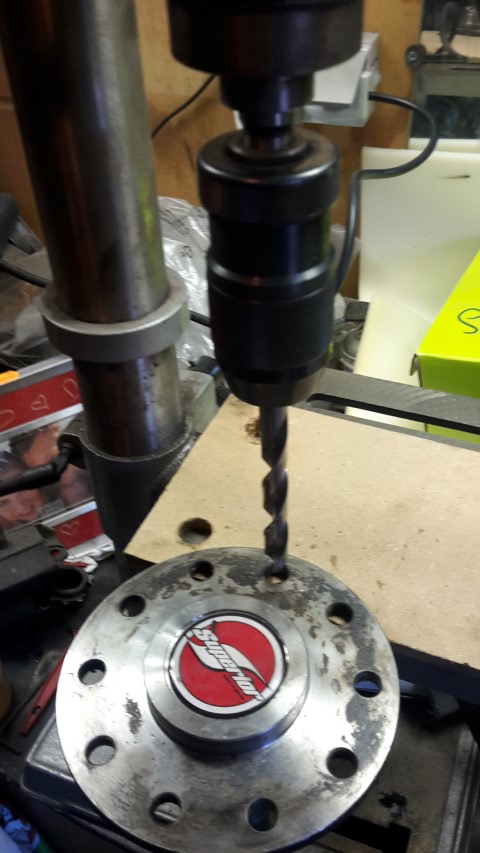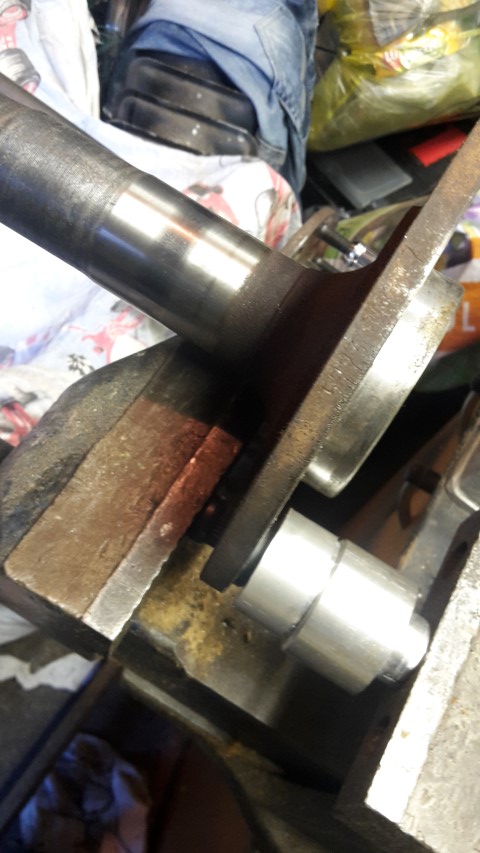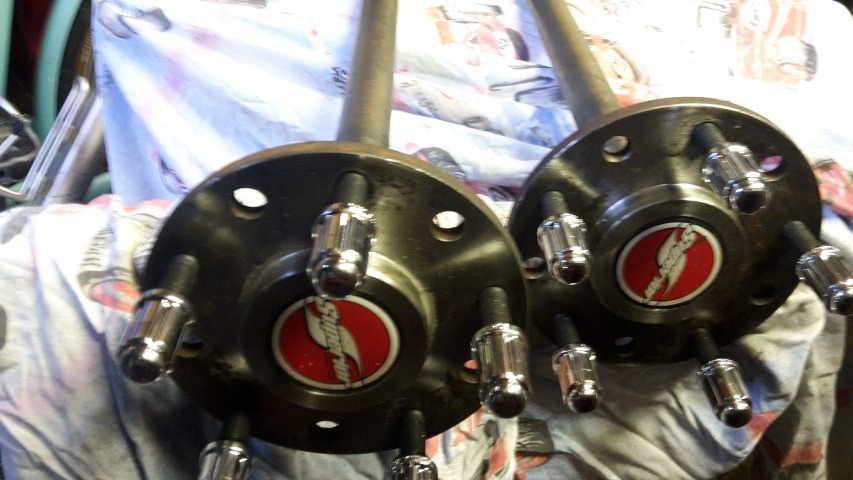 Next page will be for the work done in 2018 which is quite a lot!
You can reach me by e-mail at: camaro-rs@planet.nl